Please call +1 (877)-275-8238 to learn more about this or other tours.
This 14-Day Adventure has been carefully crafted to offer some of the best riding and most popular attractions in Spain and Morocco. The tour includes the luxury accommodations, upscale dining, and exciting group activities that have become synonymous with an Ayres Adventure. The tour price includes airport transfers, all breakfasts, most dinners (including non-alcoholic beverages), ferry crossings and park entry fees, and numerous activities. The itinerary takes place entirely on good paved roads and is ideal for a two-up getaway. The Adventure begins and ends in Malaga, one of Spain's most alluring cities. Our tour leaders will meet your flight and accompany you to our hotel. Your luggage will be transported in our spacious support vehicle. After taking a ferry across the Strait of Gibraltar, you'll spend your first Moroccan night in Tangier, where the North African portion of the Adventure continues. Key attractions of Morocco include:
Luxury accommodations, including Kasbahs and 5-Star hotels.

A two-night stay in the imperial city (and UNESCO World Heritage Site) of Fez. Our tour includes a guided walking tour of the Medina of Fez el Bali, the old walled city (founded in 789) which is reputed to be the largest contiguous car-free urban area in the world. Fez is reputed to be the most interesting and picturesque of the four Imperial cities in Morocco.

Two nights in the region of Erfoud and Merzouga, from where we'll have the opportunity to enjoy a variety of activities in the Sahara Desert, including riding the dunes on camels and quad bikes as well as the option to explore exciting desert tracks in 4×4 vehicles.

A two-night stay in Marrakesh, home of the largest souk (traditional market) in Morocco and the location of one of the busiest squares in Africa – Djemaa Square. The square bustles with dancers, acrobats, musicians, snake charmers, and tradition food vendors.

An optional visit to the British Colony of Gibraltar, on the Strait of Gibraltar on the Spanish coast.

Andalusia, Spain, including the final night in Malaga.
At a Glance Your Spain and Morocco Adventure
Arrival in Malaga, airport transfer to Hotel, motorcycle handover, kickoff meeting and our first dinner together. Riders arriving one or two days early are advised to plan a city tour and explore the many city attractions the city has to offer. The visit to the Cathedral and a Flamenco show are a must.
A relatively short day in terms of distance but it will take us almost the all day to get to our destination, as we have a ferry crossing and border to do. Great and twisty roads crossing the Sierra de Grazalema and great lunch spot in Ronda combined with the visit to the famous city cliff. Highlights: Stunning riding, ferry crossing of the Straits of Gibraltar, and border crossing into Morocco.
Tangier to Meknes. Part of the way to Meknes will be done on the highway to escape the heavy traffic of Northern Morocco towns. Visit to the Roman Ruins of Volubilis before arriving in Meknes.
Meknes to Afourer. Ride on small roads through endless cedar forests and climb the mountains of the Middle Atlas.
Afourer to Marrakech. Today's route will take us to a higher altitude through the heart of the Middle Atlas. On the way, we'll visit the Ouzoud water falls. Highlights: Middle Atlas roads and views, contact with real Moroccan people and culture, Ouzoud water falls, dinner in Marrakech.
Free day in Marrakech. Even though this is a free day, as an optional activity, we organise a morning city tour that will take you to the most important attractions that Marrakech has to offer. Free night. Highlights: Morning City tour, Djemaa el Fna square and amazing food stands at nightfall.

Marrakech to Boumalne Dades. This is the day we cross the high Atlas Mountain through the Tizn Tichka pass towards south. Possibility to visit Ait Benhaddou, another UNESCO World heritage Site, and the Dades Gorge. Highlights: Crossing the High Atlas Mountain, road and view from the Dades Gorge.
Boumaine Dades to Merzouga. After a ride into the Todra Canyon, we leave the mountains and approach the desert. Numerous oases and desert wells will be on our way and we arrive close to the giant sand dunes for a wonderful sunset experience. Highlights: visit of Todra Canyon, oasis and water wells, sunset camel ride into the sand dunes.
Merzouga to Erfoud. A relaxing morning and a short ride to our Kasbah Hotel in Erfoud leave us some time in the afternoon to go for a quad ride or 4×4 excursion into the desert.
Erfoud to Fez. Today we start heading north towards the imperial city of Fez. We will leave the desert region and again we will cross the Atlas Mountain through the beautiful Cedar forest and through Ifrane (famous Moroccan ski town).
Free day in Fez. We will have an optional morning city tour that will take you to the most important attractions that Fez has to offer. Free night. Highlights: Visit to the Medina and leather tanneries.
Fez to Tangier to Tarifa. Easy ride to Tangier stopping at Chefchaouen for lunch and quick visit. Highlight: Visit to the "blue" town of Chefchaouen.
Ronda to Malaga. Enjoy more great mountain riding, culminating in arrival in Malaga. Highlights: Final dinner together.
Departure from Malaga. Breakfast and airport transfer.
Standard Inclusions
Late model, low mileage motorcycle
Upscale accommodations
A' la carte dining
Two Ayres Adventures professional tour leaders
Airport arrival/departure transfers
Luggage handling
Comfortable support vehicle for non-riding companions
Comprehensive pre-trip planning and assistance
Customized trip booklet with day-by-day itinerary and attractions
Two commemorative shirts
Adventurer Club travel award credit
Meals
All breakfasts
11 dinners
Special Inclusions
Camel ride in Erfoud
Guided city tours in Marrakesh and Fes
Ferry – Tarifa to Tangier
Deposit per person: $800
Single room supplement
– $1,250
2019 Schedule
2020 Schedule
Cancellation fee and refunds
FROM DATE OF
SCHEDULED COMMENCEMENT
AMOUNT FORFEITED

More than 60 days
50% of deposit
60 days or fewer but more than 45 days
100% of deposit
45 days or fewer but more than 30 days
50% of full tour payment
30 days or fewer
100% of full tour payment
We're already signed up for the Alps and Morocco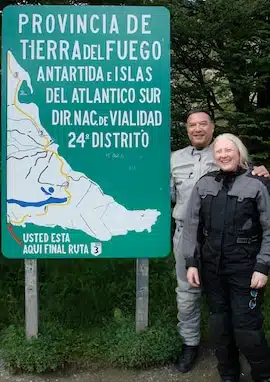 I've ridden eight Ayres Adventures tours, three of them IBA (Iron Butt Association) specific rides and haven't been disappointed. All have been first class, unique, and full of very pleasant surprises. Ron and his staff have always been courteous, helpful, and patient. In fact, he has found some special tour leaders and guides. By the end of the tour, they become friends that we look forward to seeing again.
Each tour had it's own highlights. The IBA tours fit our style of riding since we are interested in seeing as much as we can and not spending a lot of time at the destination hotels. If you ride one, be prepared to cover some distance in all kinds of road and weather conditions.
Ushuaia had been one of those must see places for us and the South America IBA ride was the perfect way to do it, we ended up with more than we expected. The scenery was spectacular, the food was excellent, and this group of riders made it a ride to remember.
We enjoyed this one so much, we're already signed up for the Alps IBA ride this September and the Portugal, Spain, and Morocco tour next year.
Tom and Mona's Adventures include:
IBA Ushuaia Tour
IBA Africa Tour
IBA Extreme Alps Tour
Machu Picchu Excursion (Empire of the Incas)
Spain and Morocco
New Zealand Top Down Adventure
Namibian Splendors (Africa)
Russia - Beyond the Golden Ring
Munich to Istanbul
Japan Cherry Blossoms and Mt. Fuji
The Epic Journey - Moscow to Hong Kong
Tom and Mona Loftus
Vista, California
Private Tour Inquiry
We are happy to book any of our motorcycle tour as a private tour. For most tours, we require a minimum of 8 bikes, or 12 participants (riders plus co-riders). We can provide a private motorcycle tour for smaller groups, but a surcharge may apply. We can also customize any of our regular tours for a private group.