Join us on this specially crafted, 8-day Alpine Adventure through the German, Austrian, Italian and Swiss Alps. The itinerary has been developed especially for this unique Ayres Adventures Club Class Tour by two of our native Alpine Tour Leaders who live in Germany and Austria. You'll be traveling in Claus and Axel's "back yard" and will experience the best the Alps have to offer.
This tour takes place during Octoberfest. Riders who delay their departure will have the opportunity to participate in this very unique Bavarian tradition. Oktoberfest is the world's largest fair with 5 million attendees – Germany's most famous event.
The Adventure features:
The Bavarian Alps
The most famous motorcycle pass in all of Europe – The Mighty Stelvio. The pass has more than 40 very sharp hairpin turns on each side and the scenery must be seen to be believed. We'll stop at the top of the Stelvio for photos and a refreshing hot drink at one of the snack bars or restaurants.
The Italian Dolomites.
An overnight stay in a rustic, spa hotel in Warth, Austria.
The smallest country in the world, Liechtenstein.
A stop at the famous King Ludwig Castle as we depart the Alps and arrive back in Munich – the beer capital of Bavaria.
Riders choosing to arrive a little early or who stay after the tour will also have the opportunity to tour the BMW Museum and the BMW automobile factory in Munich. Ayres Adventures can help you plan these visits.
At a Glance Your Indian Summer in the Alps Adventure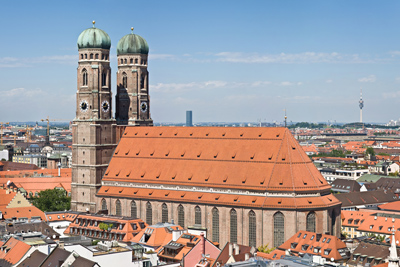 Welcome to the "beer capital of Germany"! On the official arrival day we will pick you up from the airport and transfer you to the hotel. Walk around and try out one of the famous Bavarian beergardens, before we meet for the motorcycle handover in the later afternoon. Riders arriving early can visit the BMW museum, a close by beer garden or do some sightseeing in downtown Munich. We'll have a kickoff meeting in the evening, followed by our first dinner together!
We leave the city of Munich and shortly after will see a first glimpse of the rising Alps mountains. Crossing the invisible border to Austria we follow rivers and lakeshores as we climb higher through the beautiful Tyrol region – a skiing paradise in the winter, which provides us with some beautiful twisties. We cross over the pass road of the highest mountain in Austria – the Grossglockner.
Our destination for the day lies in the part of Tyrol known as East Tyrol in the charming village of Strassen where we stay in a guest house hundreds of years old. The guest house offers some of the finest cuisine for miles around.
Continuing south to the Italian region of South Tyrol you'll be stunned by the beauty of the Dolomite Mountains. The Dolomites are characterized by rugged cliffs and sharp needle like mountain tops. This area is a Motorcyclists paradise. Countless mountain passes offer endless options for a very special day. Stopping for cappuccinos and Pizza along the way we get a feel for the Italian way of life.
The capital of the state – Bolzano – is our final destination – only a few miles away from the next pass road.
Rest Day in Bolzano. This day is designed as a rest day in the city of Bolzano – or Bozen as the German speaking part of the population calls it. The town features museums, café houses and shopping. However, we will offer a ride back into the majestic Dolomites – may it be a half or a full day – the decision is all yours.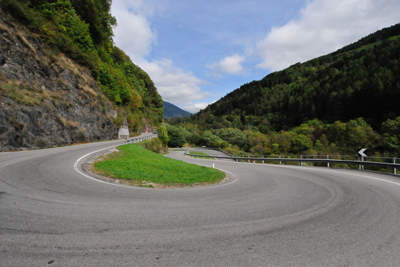 This wonderful riding day calls for an early start since there are 4 major mountain passes that await us. After some warm up over the Passo di Mendola we get a chance to rest and stroll through the medieval town of Glurns and enjoy some Italian cappuccino. We will need that rest because now we have to conquer the third highest pass in the Alps – the mother road of Passo Stelvio, with 48 switchbacks. At 9045 ft. this is the highest road that one can drive in all of Italy.
The National park "Stilfser Joch" offers breathtaking views and the road is on every motorcyclist's "to do list". Two more serious passes before the roads finally swing out towards our final destination – the lovely village of Gravedona on Lago di Como. This beautiful lake is home to many celebrities, including George Clooney.
We end this wonderful day with delicious Italian food on the lake shore.
Today we leave Italy and enter Switzerland. It's an easy start but very soon we'll see major mountains rise in front of us – Passo Maloja is only the start of another day filled with pure motorcycling fun.Passing through the famous resort town of Saint Moritz we ride through the Engadin region – outstanding beauty awaits us on the next mountain crossings and it is only up to you if you conquer one – two or even three serious pass roads before we cross the border into Liechtenstein – one of the smallest countries in the world.
We are soon back into Austria again and we'll finish a busy day in the Austrian village of Warth. During the winter this is one of the most posh Ski resorts in the Alps. Now, it is a quiet mountain retreat – perfect for a good night's rest in our luxury hotel where the only noise that you might hear during the night are cow bells.
After some long rides during the last two days we are looking at a more relaxed day as we leave the high mountains behind – but not before we show you some of the most fabulous scenery you'll ever get a chance to ride through. Cruising along lake shores in the upper Bavarian lake country once more, we have a chance to visit the famous King's Castles in Bavaria – "Neuschwanstein" or "Linderhof". Built in the late 19th Century by "mad" King Ludwig of Bavaria, they are a perfect example of the European Romantic style and definitely worth a quick stop. Continuing through the upper Bavarian lake country we will approach Munich in the early afternoon – leaving enough time to visit Munich and enjoy another famous meal and a well deserved cold beer.
Highlights: Castle Neuschwanstein, Castle Linderhof, Lake Kochel, Munich
Breakfast and airport transfers. We hope to see you on another Adventure soon.
Please contact us about low frame and/or low seat options for our bikes.
Standard Inclusions
Late model, low mileage motorcycle
All accommodations
A' la carte dining
Two Ayres Adventures professional tour leaders
Airport arrival/departure transfers
Luggage handling
Comfortable support vehicle for non-riding companions
Comprehensive pre-trip planning and assistance
Customized trip booklet with day-by-day itinerary and attractions
Two commemorative shirts
Adventurer Club travel award credit
Meals
Deposit per person: $800
Single room supplement
– $700
2023 Schedule
Dates
2023 Adventures
Length
Price
(USD)
Co-rider
Note
September 16 - 23   
Indian Summer in the Alps
8 days
$3,975
$2,975

Waitlist only
2024 Schedule
Cancellation fee and refunds
FROM DATE OF
SCHEDULED COMMENCEMENT
AMOUNT FORFEITED

More than 60 days
50% of deposit
60 days or fewer but more than 45 days
100% of deposit
45 days or fewer but more than 30 days
50% of full tour payment
30 days or fewer
100% of full tour payment
Private Tour Inquiry
We are happy to book any of our motorcycle tour as a private tour. For most tours, we require a minimum of 8 bikes, or 12 participants (riders plus co-riders). We can provide a private motorcycle tour for smaller groups, but a surcharge may apply. We can also customize any of our regular tours for a private group.