Please call +1 (877)-275-8238 to learn more about this or other tours.
Our 14-day tour of Japan begins and ends in Kyoto and features Japan's famous Cherry Blossoms as well as one of it's most popular attractions – Mt Fuji.
One of the most fascinating aspects of Japan is it's distinctive culture. Riders will enjoy a two-week immersion into this captivating environment, riding stunning rural Japanese roads, staying in tradition Japanese hotels and guest houses and enjoying delicious Japanese cuisine.
This exciting tour is filled with carefully selected attractions that will fulfill the promise of a truly premium-level Japanese motorcycling experience. Highlights include:
Kyoto – one of Japans most beautiful and historically significant cities
Yoshino – famous for its many thousands of sakura (cherry blossom) trees
Koyasan, the primary pilgrimage destination and cradle of Buddhism in Japan
The island of Myiajima, a sacred site in Japanese Buddhism and site of the famous floating gate "O Torii", one of the three most photographed attractions in Japan
A motorcycling paradise – the north coast of Honshu, featuring breathtaking views and twisty roads with little traffic
Mt. Daisen National Park, home of the oldest Shinto shrine in Japan
The UNESCO World Heritage Site of Shirakawa-go, a village consisting of traditional houses with steep thatched roofs – a famous Japanese photo opportunity
Matsumoto, with its famous black Crow Castle, surrounded by countless cherry trees
Mt Fuji, including a free day to ride around the mountain or to visit the famous Fuji Sengen Shrine
Our Japanese Adventure includes stunning motorcycling roads, coupled with an opportunity to truly experience the cultural aspects of this fascinating land. The route is totally paved and ideal for two-up riding, but includes some technical mountain riding with many twisty and serpentine roads.
At a Glance Your Cherry Blossoms and Mt Fuji Adventure
An additional charge is required for a top box or panniers:
Top Box: $21/day
Panniers: $41/day
Panniers are not popular in Japan, in part due to the many narrow roads. We will have a support vehicle for transporting rider luggage, and we recommend that riders bring a tank bag to carry small personal items.
Because so many roads are very narrow and very twisty on this trip, smaller motorcycles are recommended. These smaller motorcycles have plenty of power for the routes that we'll use, and our tour leaders will be mounted on these small motorcycles.
Standard Inclusions
Late model, low mileage motorcycle
Upscale accommodations
A' la carte dining
One Ayres Adventures tour leader assisted by Japanese guide
Airport arrival/departure transfers
Luggage handling
Support vehicle for non-riding companions
Comprehensive pre-trip planning and assistance
Customized trip booklet with day-by-day itinerary and attractions
Two commemorative shirts
Adventurer Club travel award credit
Meals
All breakfasts
11 dinners
Special Inclusions
Ferry rides to Tokushima and to Toba
Entry fee for Amanohashidate and Matsumoto Castle
Several authentic Japanese-style hotels
Deposit per person: $800
Single room supplement
– $1,950
2019 Schedule
2020 Schedule
Cancellation fee and refunds
FROM DATE OF
SCHEDULED COMMENCEMENT
AMOUNT FORFEITED

More than 60 days
50% of deposit
60 days or fewer but more than 45 days
100% of deposit
45 days or fewer but more than 30 days
50% of full tour payment
30 days or fewer
100% of full tour payment
Claus is an outstanding guide!
Claus is an outstanding guide with whom we have ridden in the past. He imparts a confidence that there is no issue he can't handle. Also, he does a great job of moving the group along without seeming overbearing. He makes an effort to know the country and the culture.
Bernard and Rhoda's Adventures include:
Japan - Cherry Blossoms and Mt. Fuji Adventure
Bernard and Rhoda Duco
Houston, TX
We're already signed up for the Alps and Morocco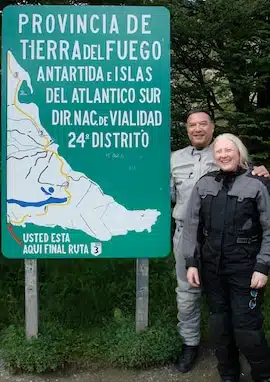 I've ridden eight Ayres Adventures tours, three of them IBA (Iron Butt Association) specific rides and haven't been disappointed. All have been first class, unique, and full of very pleasant surprises. Ron and his staff have always been courteous, helpful, and patient. In fact, he has found some special tour leaders and guides. By the end of the tour, they become friends that we look forward to seeing again.
Each tour had it's own highlights. The IBA tours fit our style of riding since we are interested in seeing as much as we can and not spending a lot of time at the destination hotels. If you ride one, be prepared to cover some distance in all kinds of road and weather conditions.
Ushuaia had been one of those must see places for us and the South America IBA ride was the perfect way to do it, we ended up with more than we expected. The scenery was spectacular, the food was excellent, and this group of riders made it a ride to remember.
We enjoyed this one so much, we're already signed up for the Alps IBA ride this September and the Portugal, Spain, and Morocco tour next year.
Tom and Mona's Adventures include:
IBA Ushuaia Tour
IBA Africa Tour
IBA Extreme Alps Tour
Machu Picchu Excursion (Empire of the Incas)
Spain and Morocco
New Zealand Top Down Adventure
Namibian Splendors (Africa)
Russia - Beyond the Golden Ring
Munich to Istanbul
Japan Cherry Blossoms and Mt. Fuji
The Epic Journey - Moscow to Hong Kong
Tom and Mona Loftus
Vista, California
Private Tour Inquiry
We are happy to book any of our motorcycle tour as a private tour. For most tours, we require a minimum of 8 bikes, or 12 participants (riders plus co-riders). We can provide a private motorcycle tour for smaller groups, but a surcharge may apply. We can also customize any of our regular tours for a private group.