Please call +1 (877)-275-8238 to learn more about this or other tours.
Ireland is a country steeped in rich culture, a long history and beautiful rolling scenery. Our Mystical Ireland Motorcycle Tour will take riders on a 12-day adventure to the most interesting and scenic parts of Ireland as we circumnavigate the 'Emerald of the Atlantic.' Be prepared for absolutely breathtaking scenery as we ride along the 'Wild Atlantic Way' and visit places like the Giants Causeway, Cliffs of Moher and Ring of Kerry!
Highlights include:
Dublin
Giant's Causeway
Cliffs of Moher
Wild Atlantic Way
Conor Pass
Ring of Kerry
Wicklow Mountains
At a Glance Your Mystical Ireland – Emerald of the Atlantic Motorcycle Adventure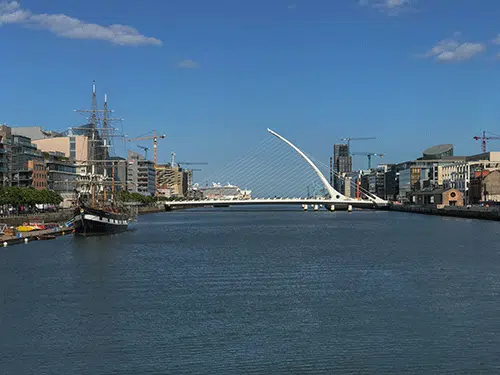 Welcome to Dublin, Ireland! The tour leaders will pick you up from Dublin Airport and escort you to our hotel. Depending on when you arrive, you may have time to explore some of the many shops and historic sites in this typical Irish city before we meet for the motorcycle handover later in the afternoon. We will have a kickoff meeting in the evening, followed by our first dinner together at a charming Irish restaurant.
We begin our first riding day by heading south out of Dublin's hubbub toward the Wicklow Mountains. We will be on small, scenic roads through Irish backcountry and will pass through famous Waterford. Our destination is the university city of Cork, situated on the River Lee.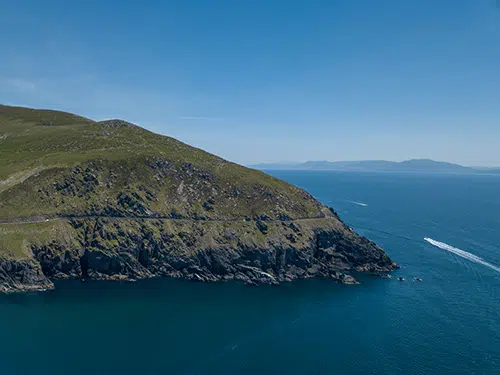 Today we will explore the southwestern-most corner of Ireland including the Ring of Kerry. Although this is a "must-see" feature, we will also be riding in Gleninchaquin Park and covering smaller twisty roads around the peninsulas with their breathtaking scenery. Killarney, with its many attractions and activities is our destination for this evening.
There are a number of options to consider for your free day in Killarney. You could take an optional ride through 10,000 years of history on the Ring of Kerry where you'll pass many castles, ancient stone forts and enchanting natural sights. Or, relax in town with a little shopping, sightseeing and the mandatory pint of Guinness!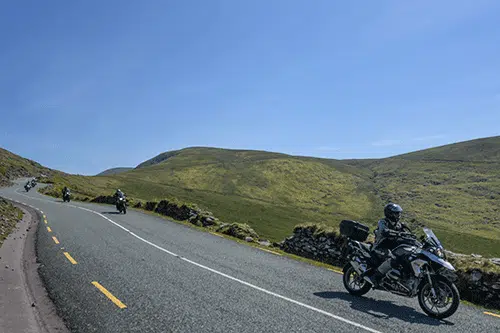 Today we will ride on the Dingle Peninsula as we head to Conor Pass via one of Ireland's most scenic roads with white beaches and a rugged coast line. Conor Pass is the highest mountain pass in Ireland which weaves its way around sharp cliff faces and past high lakes. This awesome ride ends in a small village close to the famous Cliffs of Moher.
This will be another day of breathtaking sights as we visit the famous Cliffs of Moher which are ranked as one of the most-visited sites in Ireland. We will continue on to the Burren National Park with its spectacular, surreal landscape. After we take a break in the picturesque village of Cong (film location for the John Wayne movie "The Quiet Man"), we will proceed to Connemara National Park, known for its natural beauty. Our destination, Westport, has won both "The Best Place to Live in Ireland" and the Irish Tidy competitions.
Riding on the Wild Atlantic Way, we will pass through Ballycroy National Park, with one of the largest expanses of peatland in Europe. We will stop at Downpatrick Head – a hair-raising place of natural beauty where you can sit right at the edge of some stunning cliffs! Later in the day, we will pass through Sligo, which is in an area with one of the highest densities of prehistoric archaeological sites in Ireland. Arriving in Donegal, we enjoy our well-deserved pint of beer before heading out for dinner.
We will start the day with a visit to Slieve League, or the "Silver Cliffs", which are almost three times higher than the Cliffs of Moher and are among the highest sea cliffs in Europe. We will then ride the windy Glengesh pass road enjoying spectacular views on our way to the picturesque village of Ardara. This is followed by a ride through the scenic Glenveagh National Park and a visit to Fanad Head – a wild and rugged peninsula with awe-inspiring landscapes. Our destination is Derry, also known as Londonderry. The former name is preferred by the Republic of Ireland while the latter is used by the British. The city is also nicknamed the "Maiden City" due to the fact that its walls were never breached despite being besieged on three separate occasions in the 17th century.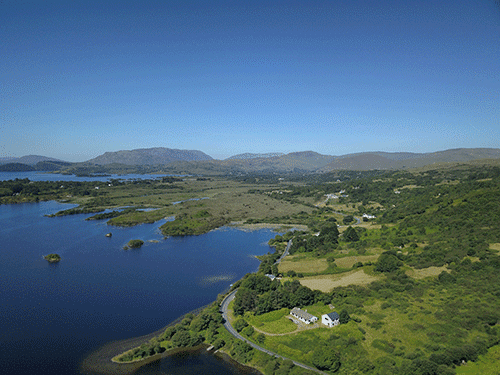 There are a lot of options to choose from for your free day in Londonderry. You could spend the day exploring the ancient walls or some of the many cathedrals and museums. Alternatively, you could choose to head out of the city and take a short ride on the Lough Foyle Ferry from Magilligan to the quaint fishing town of Greencastle on the picturesque Inishowen Peninsula. From Greencastle you can ride out to Ireland's northernmost point of Malin Head and then head over to Fort Dunree before making your way back to Londonderry.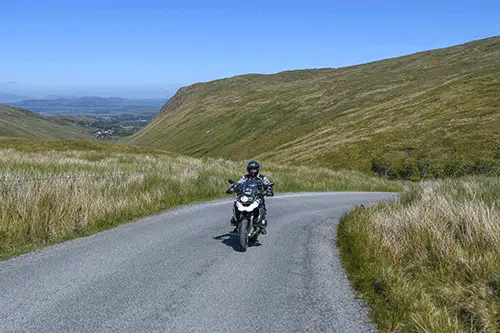 Today's ride will be along the coast of Northern Ireland as we head for the famous Giants Causeway, a World Heritage Site. After we stop to capture some great photos, we will head for Irelands oldest working distillery, Bushmills. In the afternoon, we will enjoy one of Irelands most scenic rides, the Antrim Coast Road.
After a late start we continue south on small roads and leave Northern Ireland again. Back in the Republik of Ireland – if time allows it – we can make an optional stop and guided tour in the 5000 years old passage tomb of Newgrange, before we return to Dublin and finish our loop around this beautiful island! We will go out and have our final dinner in a nice restaurant – certainly with a couple of pints of tasty Irish beer!"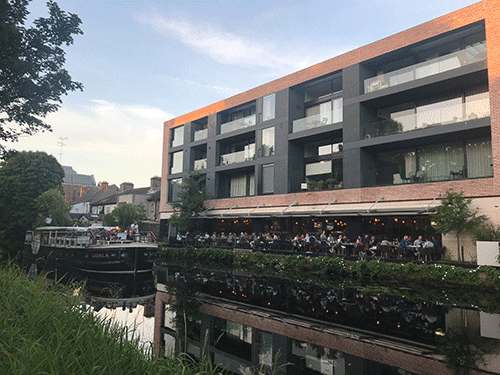 After breakfast we will arrange your transport to the airport for your flight home.
The route is entirely paved.
Please contact us about low frame and/or low seat options for our bikes.
Standard Inclusions
Late model, low mileage motorcycle
Upscale accommodations
A' la carte dining
Two Ayres Adventures professional tour leaders
Airport arrival/departure transfers
Luggage handling
Comfortable support vehicle for non-riding companions
Comprehensive pre-trip planning and assistance
Customized trip booklet with day-by-day itinerary and attractions
Two commemorative shirts
Adventurer Club travel award credit
Meals
Special Inclusions
Entry fees for group activities
One optional ferry ride
Deposit per person: $800
Single room supplement
– $800
2023 Schedule
2024 Schedule
Cancellation fee and refunds
FROM DATE OF
SCHEDULED COMMENCEMENT
AMOUNT FORFEITED

More than 60 days
50% of deposit
60 days or fewer but more than 45 days
100% of deposit
45 days or fewer but more than 30 days
50% of full tour payment
30 days or fewer
100% of full tour payment
Private Tour Inquiry
We are happy to book any of our motorcycle tour as a private tour. For most tours, we require a minimum of 8 bikes, or 12 participants (riders plus co-riders). We can provide a private motorcycle tour for smaller groups, but a surcharge may apply. We can also customize any of our regular tours for a private group.