Please call +1 (877)-275-8238 to learn more about this or other tours.
Welcome to the Real Russia!
The Golden Ring is a collection of cites northeast of Moscow. This Premium Class Adventure features a visit to these popular cities, which are sometimes called "open air museums". They are picturesque and charming, featuring small, quaint villages, monasteries, kremlins, churches, and cathedrals. But "Beyond the Golden Ring" offers so much more in addition to these delightful cities.
Much of this Adventure takes place in the "Real Russia" – the one " beyond the Golden Ring". We'll take the "road less traveled" where you'll enjoy the natural and architectural beauty found in the heart of Russia. You'll get to know the Russia of princes, czars and folk tales. Before heading to St. Petersburg we'll ride to the small town of Sortavala where we'll stay in a beautiful lodge on Lake Ladoga – Europe's largest lake. The free day at Sortavala will allow us to take an exclusive cruise to Valaam – one of the most popular islands on the lake, where we'll also enjoy a shasklik – a classic Russian cookout.
Much of this trip will take place in the beautiful Karelia Region of Russia during the time of "White Nights". The weather will be warm and pleasant, and it will never really get dark, as the sun does not set until nearly midnight and sunrise is well before 4 am. It's a delightful time to travel in the Russian wilderness, riding through enchanting forests and among countless lovely lakes and rivers.
One of the most surprising things that our riders on this tour have experienced in the number of places that we've visited in which locals claim to have never seen a visitor from North America.
After spending two nights in St. Petersburg, we'll return to Riga via Tallinn, Estonia, where we'll enjoy a most entertaining evening in this charming, medieval city.
Our choice of accommodations is outstanding and meals are delightful and typically Russian.
(Ron Ayres wrote a blog about his scouting trip in Russia that led to the development of this Ayres Adventure. If you'd like to read the blog articles, just click on "Ron's Travels" at the top of the website. The articles appear in reverse chronological order.)
At a Glance
Your Russia Beyond the Golden Ring Adventure
Although approximately 95% of the route is paved, road conditions vary considerably in rural areas. Although most of the roads are lovely, some secondary roads are rough with uneven surfaces, freeze-damaged surfaces, and occasional potholes. Unpaved sections do not require technical off-road experience, but riders should have experience riding gravel roads.
This trip is intended for experienced riders.
Includes BMW F700GS
Additional charge of $150 for a BMW F800GS
Additional charge of $150 for a BMW F800R
Additional charge of $150 for a BMW F800GT
Additional charge of $250 for a BMW F800GS Adv
Additional charge of $250 for a BMW R1200R LC
Additional charge of $550 for a BMW R1200GS LC
Additional charge of $700 for a BMW R1200GS Adv LC
Additional charge of $700 for a BMW R1200RT LC
Additional charge of $820 for a BMW R nineT (limited number – on special request)
Additional charge of $850 for a BMW S1000R
Additional charge of $1,000 for a BMW S1000XR
Additional charge of $1,000 for a BMW R1200RS LC (limited number – on special request)
Additional charge of $1,000 for a BMW K1300R (limited number – on special request)
Additional charge of $1,000 for a BMW K1300S (limited number – on special request)
Additional charge of $2,260 for a BMW S1000RR (limited number – on special request)
Personal motorcycle: deduct $1,300 from the rider price.
Standard Inclusions
Late model, low mileage motorcycle
Upscale accommodations
A' la carte dining
Two Ayres Adventures professional tour leaders
Airport arrival/departure transfers
Luggage handling
Comfortable support vehicle for non-riding companions
Comprehensive pre-trip planning and assistance
Customized trip booklet with day-by-day itinerary and attractions
Two commemorative shirts
Adventurer Club travel award credit
Meals
All breakfasts
11 dinners
Special Inclusions
Moscow city tour
Boat trip to Valaam Island in Lake Ladoga
Guided tour of Peterhof Palace in St. Petersburg
Deposit per person: $800
Single room supplement
– $1,575
2019 Schedule
2020 Schedule
Cancellation fee and refunds
FROM DATE OF
SCHEDULED COMMENCEMENT
AMOUNT FORFEITED

More than 60 days
50% of deposit
60 days or fewer but more than 45 days
100% of deposit
45 days or fewer but more than 30 days
50% of full tour payment
30 days or fewer
100% of full tour payment
We're already signed up for the Alps and Morocco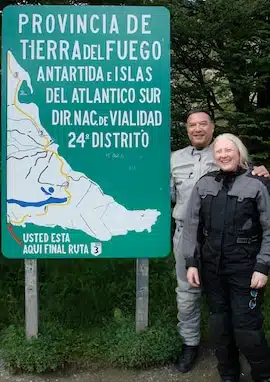 I've ridden eight Ayres Adventures tours, three of them IBA (Iron Butt Association) specific rides and haven't been disappointed. All have been first class, unique, and full of very pleasant surprises. Ron and his staff have always been courteous, helpful, and patient. In fact, he has found some special tour leaders and guides. By the end of the tour, they become friends that we look forward to seeing again.
Each tour had it's own highlights. The IBA tours fit our style of riding since we are interested in seeing as much as we can and not spending a lot of time at the destination hotels. If you ride one, be prepared to cover some distance in all kinds of road and weather conditions.
Ushuaia had been one of those must see places for us and the South America IBA ride was the perfect way to do it, we ended up with more than we expected. The scenery was spectacular, the food was excellent, and this group of riders made it a ride to remember.
We enjoyed this one so much, we're already signed up for the Alps IBA ride this September and the Portugal, Spain, and Morocco tour next year.
Tom and Mona's Adventures include:
IBA Ushuaia Tour
IBA Africa Tour
IBA Extreme Alps Tour
Machu Picchu Excursion (Empire of the Incas)
Spain and Morocco
New Zealand Top Down Adventure
Namibian Splendors (Africa)
Russia - Beyond the Golden Ring
Munich to Istanbul
Japan Cherry Blossoms and Mt. Fuji
The Epic Journey - Moscow to Hong Kong
Tom and Mona Loftus
Vista, California
Private Tour Inquiry
We are happy to book any of our motorcycle tour as a private tour. For most tours, we require a minimum of 8 bikes, or 12 participants (riders plus co-riders). We can provide a private motorcycle tour for smaller groups, but a surcharge may apply. We can also customize any of our regular tours for a private group.