Please call +1 (877)-275-8238 to learn more about this or other tours.
This 14-day Adventure has been carefully crafted to offer some of the best riding and most popular attractions in Spain and Morocco. The Adventure begins and ends in Malaga, one of Spain's most alluring cities. A ferry ride across the Strait of Gibraltar takes us to Tangier, where we begin the 10-day North African portion of our Adventure. The tour includes luxury accommodations, upscale dining, and exciting group activities – features characteristic of all Ayres Adventures.
Tour highlights include:
Luxury accommodations, including Kasbahs and 5-star hotels.
A two-night stay and a guided half-day city tour in Marrakech, home of the largest souk (traditional market) in Morocco and the location of one of the busiest squares in Africa – Djamal Fna. The square bustles with dancers, acrobats, musicians, snake charmers, and traditional food vendors.
Two nights in the region of Erfoud and Merzouga, along with a variety of activities in the Sahara Desert including riding the dunes on camels, exploring the desert in 4×4 vehicles, and an option to ride the dunes on quad bikes.
A two-night stay in the imperial city of Fez, a UNESCO World Heritage Site. Fez is reputed to be the most interesting and picturesque of the four Imperial cities in Morocco.
A visit to Ronda, a city known for its location on a dramatic escarpment providing stunning views of the deep El Tojo gorge.
At a Glance Your Spain and Morocco Adventure
Welcome to Malaga, Spain! The tour leaders will meet you at the airport and transfer you to our hotel. If you arrive early you can take time to explore the many attractions, cathedrals, churches and historical buildings found within the centre of Malaga, or you can relax at one of the nearby beaches. In the late afternoon we will meet for the motorcycle handover followed by a brief kickoff meeting. Afterwards, we will enjoy our first dinner together as we sample Andalusian cuisine.
Today we'll start off riding the wonderful twisty roads in the coastal mountains of the Costa del Sol. After lunch we board the ferry for a 1 ½ hour cruise across the Strait of Gibraltar. After a short stop at the border office, we'll do our first miles in Morocco as we make our way to tonight's hotel in Tangier. Welcome to Morocco and the continent of Africa!
The first few miles of today's ride will be on highways that lead us to the countryside for great riding through the beautiful scenery of Northern Morocco. We will stop in the city of Chefchaouen, known as the "blue city", where we will take time to walk through the many small cobbled lanes lined with local artists and small shops selling art and leather goods. Back on the country roads, we will stop in one of the small towns for lunch, and then take in wonderful scenery on our way to the former capital city, Meknes. We will spend the night at a locally-owned 'riad' – a traditional Moroccan house with an interior courtyard, where we will be treated to a delicious home-cooked dinner.
Today's route will take us through the Foret de Cedres (Cedar Forest), where we will likely see Barbary Macaques on the side of the road – the only African monkeys that live north of the Sahara. As we climb in altitude and make our way towards the Atlas Mountains, we will start to experience cooler temperatures. We will be on small, narrow twisty roads as we ride toward a wonderful hotel that overlooks Lake Bin el Ouidane. An early afternoon arrival will allow us to enjoy the great views and range of amenities available at this impressive hotel.
Today we will continue to climb higher as we ride through the heart of the Middle Atlas. On the way, we will take a small detour to visit the Ouzoud water falls. This is also a great place to buy local souvenirs, and the perfect time to enjoy lunch overlooking the falls. We will have to endure some inner-city traffic as we make our way to a great hotel, perfectly located in the very heart of Marrakech.
Marrakech is a bustling, lively city with a lot of traffic and people. It is also home to the medina and the famous night market of Marrakech, with its iconic snake charmers and many fascinating little stalls that sell just about anything one could ever want from Morocco. In the morning, we will take a city tour in and around the medina. We'll be back at the hotel by lunchtime allowing time to further explore the city or relax at the hotel's spacious poolside. In the early evening, we will return to the medina to experience the vibrant, famous night market of Marrakech.
Today we cross the high Atlas Mountains on the Tizn Tichka pass road and make our way toward Boumalne Dades. On our way we will visit Ait Benhaddou, a UNESCO World Heritage Site, which features beautiful examples of Kasbahs. During the last few miles of the ride we will stop for pictures of Dades Gorge before arriving at our small Kasbah-style hotel.
Just after leaving the hotel, we will take a short detour to ride into the Todra Canyon for a great photo opportunity. As we make our way down the pass, we will experience several miles of great mountain roads before the road begins to straighten and we see deep red and brown sand dunes in the distance. It does not take long before the 'wow' factor kicks in and we realize we are heading straight toward the Sahara Desert! Of course, one cannot visit the desert and not ride a camel. More so, if the camel is the only option to take you the last few miles to tonight's little gem of a 'hotel' in the middle of the Sahara Desert: luxurious tents with full ensuite facilities!
After a wonderful evening and great breakfast in the desert, our camels will be exchanged for 4×4 SUVs, which will take us on a short drive to several scenic points in the desert before we get back on the bikes. When we get to Erfoud, we will have the option of doing a quad bike tour of the sand dunes during the afternoon. For those who would like to spend the afternoon relaxing, the hotel has a wonderful pool and poolside bar!
Today we leave the desert behind and head back into the Atlas Mountains. It's a full day's ride, but it will be interesting, fun and very scenic, as we make our way toward Fez. We will ride through the 'Gorges du Ziz', a huge and beautiful valley carved by the water of the Ziz River over millions of years. The hotel rooms for our two-night stay overlook the old Fez medina, which we will explore by foot on our free day tomorrow.
Fez is the second largest city in Morocco (after Casablanca), and is also home to the Fez medina, which is the old walled-in, historical part of the original city. It is a labyrinth of walkways and little alleys, all of which are bustling with people and vendors.
The Fez medina can only be explored by foot, so we will have a local guide escort us on a guided tour through the city. During the tour we'll get to see the inside of ancient buildings and churches. We'll also have the chance to observe and photograph many local tradesmen and artists working on their arts and crafts. The tour will also include a visit to the leather tannery. Before entering the tannery, the shop owners will offer us fresh mint leaves to place under our noses. Do yourself a favour and take them!
Today is our last riding day in Morocco. The morning ride out of Fez is very scenic. On our way to Tangier we will stop in a small beachfront town for lunch before heading to the ferry terminal for our cruise back to Spain. Tonight's hotel is a very short ride from the ferry terminal, right on the beach. The beers are cold, the sunset is spectacular, and dinner will be perfect. Welcome back to Spain!
Today's ride through the Sierra de Grazalema features spectacular scenery that will leave you breathless. Ronda, the cradle of Spanish bullfighting and one of the most famous cities in Andalusia, will be our destination for lunch. Afterwards, we will enjoy more fabulous riding before we arrive at our hotel in Malaga. In the evening we will enjoy our final celebratory dinner together.
After a relaxing breakfast at the hotel, the tour leaders will arrange transfer to the airport for your flight home.
The route is entirely paved, with a variety of road features including several twisty mountain passes.
Please contact us about low frame and/or low seat options for our bikes.
Standard Inclusions
Late model, low mileage motorcycle
Upscale accommodations
A' la carte dining
Two Ayres Adventures professional tour leaders
Airport arrival/departure transfers
Luggage handling
Comfortable support vehicle for non-riding companions
Comprehensive pre-trip planning and assistance
Customized trip booklet with day-by-day itinerary and attractions
Two commemorative shirts
Adventurer Club travel award credit
Meals
All breakfasts
12 dinners
Special Inclusions
Camel ride in the Sahara Desert
Guided city tours in Marrakesh and Fes
Round trip ferry ride between Spain and Morocco
Deposit per person: $800
Single room supplement
– $1,250
2023 Schedule
2024 Schedule
| Date | 2024 Adventures | Length | Price | Co-rider | Notes |
| --- | --- | --- | --- | --- | --- |
| April 13 - 26                         | Spain & Morocco Adventure | 14 days | $7,500 | $5,500 | |
Cancellation fee and refunds
FROM DATE OF
SCHEDULED COMMENCEMENT
AMOUNT FORFEITED

More than 60 days
50% of deposit
60 days or fewer but more than 45 days
100% of deposit
45 days or fewer but more than 30 days
50% of full tour payment
30 days or fewer
100% of full tour payment
Norway is the most beautiful country I have ever ridden a bike in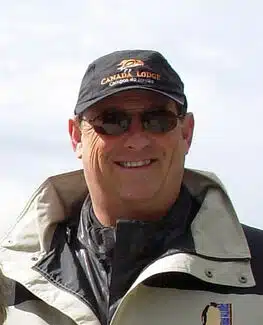 Norway is the most beautiful country I have ever ridden a bike in. It is a combination of Chile and Argentina, New Zealand, Ireland, but scenery wise better than the four of them combined.
It is one scenic beauty after another. You never knew what the scenery was gonna look like around the next corner or when you came out the next tunnel. And the North Cape is pretty spectacular when you consider where you are at that moment.
I will do this tour again, with better raingear.
The group of fellow riders on this tour were the nicest people I've ever been on a trip with. Nice, caring, funny, intelligent, accomplished riders and they were extremely nice to invite me to do things with them.
John's Adventures include:
Southern Cross
Munich to Istanbul
Mystical Ireland
Barcelona to Lisbon
Norwegian Midnight Sun
Spain and Morocco
We're already signed up for the Alps and Morocco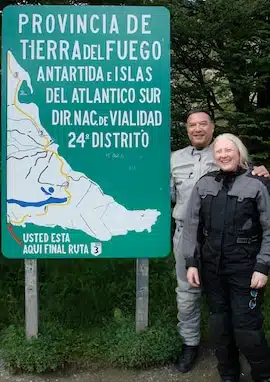 I've ridden eight Ayres Adventures tours, three of them IBA (Iron Butt Association) specific rides and haven't been disappointed. All have been first class, unique, and full of very pleasant surprises. Ron and his staff have always been courteous, helpful, and patient. In fact, he has found some special tour leaders and guides. By the end of the tour, they become friends that we look forward to seeing again.
Each tour had it's own highlights. The IBA tours fit our style of riding since we are interested in seeing as much as we can and not spending a lot of time at the destination hotels. If you ride one, be prepared to cover some distance in all kinds of road and weather conditions.
Ushuaia had been one of those must see places for us and the South America IBA ride was the perfect way to do it, we ended up with more than we expected. The scenery was spectacular, the food was excellent, and this group of riders made it a ride to remember.
We enjoyed this one so much, we're already signed up for the Alps IBA ride this September and the Portugal, Spain, and Morocco tour next year.
Tom and Mona's Adventures include:
IBA Ushuaia Tour
IBA Africa Tour
IBA Extreme Alps Tour
Machu Picchu Excursion (Empire of the Incas)
Spain and Morocco
New Zealand Top Down Adventure
Namibian Splendors (Africa)
Russia - Beyond the Golden Ring
Munich to Istanbul
Japan Cherry Blossoms and Mt. Fuji
The Epic Journey - Moscow to Hong Kong
Tom and Mona Loftus
Vista, California
Private Tour Inquiry
We are happy to book any of our motorcycle tour as a private tour. For most tours, we require a minimum of 8 bikes, or 12 participants (riders plus co-riders). We can provide a private motorcycle tour for smaller groups, but a surcharge may apply. We can also customize any of our regular tours for a private group.