Motorcycle Tours in Asia
Ayres Adventures will offer three new tours in Asia in 2016-2017: the 14-day Japan – Cherry Blossoms and Mount Fuji, the 69-day Riga to Hong Kong – Epic Journey, and the 13-day Hokkaido – Japan's wild North.
During 2013 and 2014 Ayres Adventures conducted four separate Asian scouting missions in preparation for launching these new tours. As with all of our tours, Ayres Adventures makes considerable investment in scouting to select the best of many alternative routes and attractions. With extensive advance preparation, we can insure that the most interesting destinations, routes, attractions and accommodations are offered to our customers. Scouting for the Asian Adventures has proved to be more challenging than for any other of our tours. We spent several weeks scouting Japan, and several months scouting the Epic Journey and the Eastern Siberia and Mongolia Adventures, including rides through "European" Russia, Siberia, Mongolia, Kazakhstan and China.
The Japan – Cherry Blossoms Tour includes several of Japan's most popular ancient temples, mist-shrouded hills, quaint thatch-roofed villages, and twisty mountain roads. Our staff was very impressed with this motorcycling paradise and with the gracious hospitality of Japanese people; but most of all, with the spectacular visit to Mt. Fuji during cherry blossom time!
The route we've selected for the magnificent Epic Journey crosses six countries – Latvia, Estonia, Russia, Kazakhstan, Mongolia, and China. Accommodations range from 5-star hotels to "Gers". Early on, you'll visit the beautiful city of St. Petersburg including the Palace of Catherine the Great. In Mongolia, you'll have an authentic experience of the three national sports: archery, horse racing, and wrestling. In China you'll ride "bucket list roads" that are not on any other tour itinerary, as well as the famous Silk Road. You'll visit the Terracotta Army in Xi'an, the Great Wall of China, Beijing, and finally, Hong Kong. This is truly the trip of a lifetime!
Ayres Adventure Switchback Challenge was amazing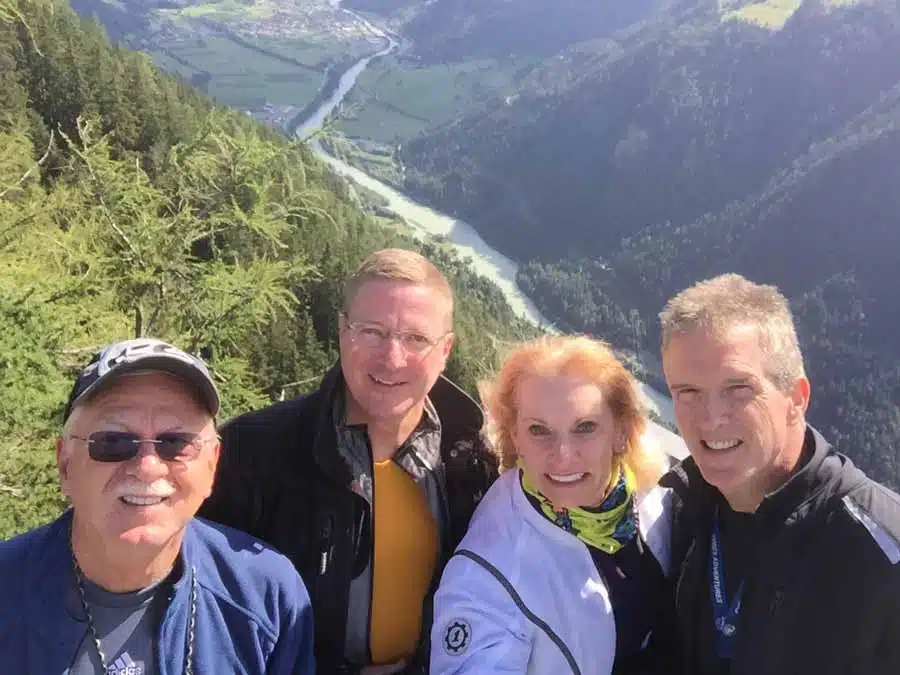 Ayres Adventure Switchback Challenge was amazing. If you are the type of rider who measures the chicken strip before and after your ride (like my husband does) then this tour is for you. We spent most of the time leaning than we did riding up right. This was especially challenging for me because I was riding two up and in charge of the filming while trying to hold on. Axel was not only entertaining but a wealth of knowledge when it came to the bikes, riding and safety. He made sure to include me in the decision making process even though I was the only female and pillion. He went above and beyond to make me feel like a real life princess on my birthday. The little touches did not go unnoticed. Thank you Axel and thank you Ayres for the trip of a life time.
Erika's Adventures include:
Switchback Challenge - the Alps
Erika Danek
St. Augustine, FL