Motorcycle Tours in Asia
As with all of our tours, Ayres Adventures makes a considerable investment in scouting to select the best of many alternative routes and attractions. With extensive advance preparation, we can insure that the most interesting destinations, routes, attractions and accommodations are offered to our customers. Scouting for our Japanese Adventures has proven to be more challenging than our other tours due to language and cultural factors.
Traffic signs are provided only in Japanese and very little English is spoken outside of the largest cities. It would be impractical to attempt to conduct a tour in Japan without the local assistance of people having fluency in the language, and experience working in an environment so culturally different from most other parts of the world.
Although we operate all of our tours with our own team of global tour leaders, in the case of Asia we must augment our staff with knowledgeable locals. As a result, our Japan tours feature some of the most popular attractions including ancient temples, mist-shrouded hills, quaint thatch-roofed villages and twisty mountain roads.
This was a really adventurous trip, going to places where few others go!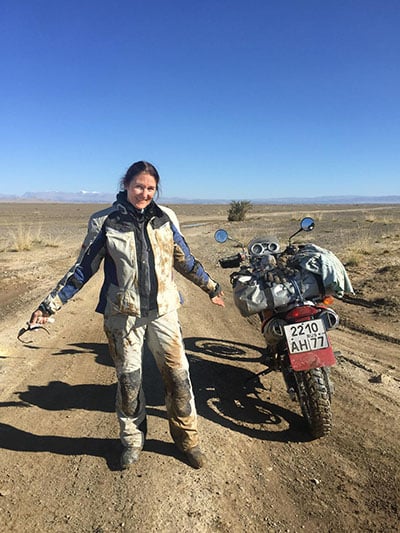 This was a really adventurous trip, going to places where few others go. The riding is challenging and makes the land soak into your entire body. The vast spaces are a relief from our crowded lives and free up the imagination like no other place. It takes a long time afterwards to process all the experiences and tell the stories, truly a "once in a lifetime"!
Cordelia's Adventures include:
Mongolia and Eastern Siberian Adventure
New Zealand Top Down Adventure
Cordelia Sever
Albuquerque, NM