I can't say enough good things about this experience!
This was my second Ayres Adventures tour, but definitely not my last. It will not be my last trip to Africa, either. The tour guides, John and Rob were as much a part of the group and the experience as everything and everyone else. The accommodations were first class and the food was incredible--they always pick the best of both. I think we were all surprised by South Africa and its peoples. The country is clean and the people are friendly. I can't say enough good things about this experience!
Beverly's Adventures include:
Iron Butt Escape to Ushuaia Adventure
African Panorama Adventure
Beverly Ruffin
Houston, Texas
The cruise to Antarctica will be an unforgettable time in our lives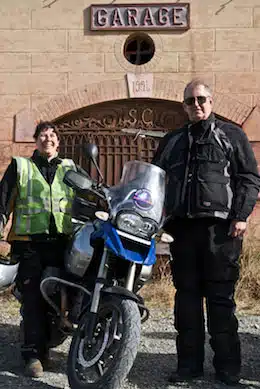 Heidi and I thoroughly enjoyed ourselves on the recent Escape to Antarctica/Ushuaia tour. This was our first tour of this sort and any expectations we had were met and far exceeded. Your tour staff was excellent and helpful, as well as our traveling companions.
The cruise to Antarctica will be an unforgettable time in our lives. The ship and crew were all first class. The sights and wildlife in Antarctica are indescribable, and need to be experienced first hand to grasp the magnitude of the seventh continent. Walking amongst the penguins and the seals was a kick. This is an experience enjoyed by few, due to the limited numbers allowed to this truly wild place.
We thank you for the opportunity of a lifetime to have joined you on this tour, and hopefully we can join another Ayres Adventures tour in the future.
Bob and Heidi's Adventures include:
Ushuaia and Antarctica
Viking Run
Bob and Heidi Still
Yuma, Arizona
We have NO complaints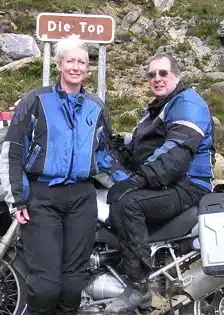 Thanks for a great trip. We really enjoyed ourselves and we have NO complaints.
There is not much we could suggest that would have improved the experience for us.
Nick and Jool's Adventures include:
Africa Iron Butt Tour
Prudhoe Bay Excursion (Alaska)
Heart of Africa
Nick Robbins and Jools Hamilton
Cheltenham, United Kingdom
What a Ride!
What a ride! The IBA (Iron Butt Association) Ushuaia trip attracted me because of the opportunity to ride with like minded individuals who like doing the miles, and I was not disappointed. Challenging conditions like the Patagonian winds and the gravel roads of Chile were taken in stride by this bunch, and we all looked forward to great accommodations and good company at the end of every day.
My personal highlights were chasing Mike Kneebone and Nuno Leotte on the twisty pavement to the Perito Moreno glacier and the 1100 km day riding from Ushuaia to Torres del Paine through some of the finest scenery in the world.
I'll be back for more.
Rick's Adventures include:
IBA (Iron Butt Association) Ushuaia Tour
African Call of the Wild
African Southern Cross
Portugal, Spain and Morocco
Machu Picchu Excursion
Rick Sauter
Nelson, British Columbia, Canada
Now I'm dreaming of an Ayres Adventure in South America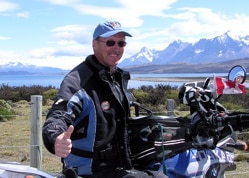 The planning and organization that went into the African Southern Cross made this trip very special for me. I recommend this excursion to anyone who would like a very special holiday on a motorcycle. Now I'm dreaming of an Ayres Adventure in South America!.
Andre's Adventures include:
Escape to Ushuaia
Southern Cross
Viking Run
Andre Gareau
Ottawa, Canada
YOUR CREW IS SIMPLY THE BEST!
I made my daughter change the date of her wedding because I didn't want to miss this trip of a lifetime. The trip was well worth it!
Jill and I loved it. It had everything an "Iron Butt" rider could want. Straightaways, twisties, pavement, gravel, wind, hot, cold, and some of the most spectacular scenery we've ever seen - and not a bit of whining from any of the riders.
We're looking forward to our next adventure with you, so long as I can work it into my schedule. Thanks again for a life time experience that will be told over and over.
YOUR CREW IS SIMPLY THE BEST!
Sean and Jill's Adventures include:
IBA Africa Tour
IBA Ushuaia Tour
Sean Gallagher and Jill Minozzi
Richmond, Virginia
We're already signed up for the Alps and Morocco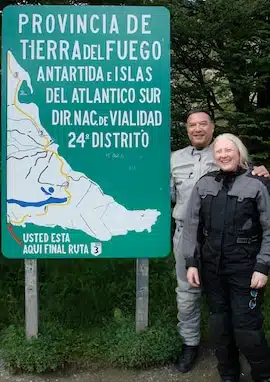 I've ridden eight Ayres Adventures tours, three of them IBA (Iron Butt Association) specific rides and haven't been disappointed. All have been first class, unique, and full of very pleasant surprises. Ron and his staff have always been courteous, helpful, and patient. In fact, he has found some special tour leaders and guides. By the end of the tour, they become friends that we look forward to seeing again.
Each tour had it's own highlights. The IBA tours fit our style of riding since we are interested in seeing as much as we can and not spending a lot of time at the destination hotels. If you ride one, be prepared to cover some distance in all kinds of road and weather conditions.
Ushuaia had been one of those must see places for us and the South America IBA ride was the perfect way to do it, we ended up with more than we expected. The scenery was spectacular, the food was excellent, and this group of riders made it a ride to remember.
We enjoyed this one so much, we're already signed up for the Alps IBA ride this September and the Portugal, Spain, and Morocco tour next year.
Tom and Mona's Adventures include:
IBA Ushuaia Tour
IBA Africa Tour
IBA Extreme Alps Tour
Machu Picchu Excursion (Empire of the Incas)
Spain and Morocco
New Zealand Top Down Adventure
Namibian Splendors (Africa)
Russia - Beyond the Golden Ring
Munich to Istanbul
Japan Cherry Blossoms and Mt. Fuji
The Epic Journey - Moscow to Hong Kong
Tom and Mona Loftus
Vista, California