Across the Top of the World Highway and into the Yukon
Please call +1 (877)-275-8238 to learn more about this or other tours.
Features of this 13-day Adventure include:
Current model, low mileage BMW motorcycles.
Support vehicle and trailer for transporting rider luggage, a spare motorcycle, and non-riding companions.
Premium accommodations and meals.
All breakfasts and 10 dinners.
Maximum of 12 guest motorcycles.
Many of Alaska's most scenic highways – primarily paved roads (Alaska's stunning "Top of the World Highway" includes approximately 100 miles of good, hard-packed dirt/gravel).
Free days in Whitehorse (Canada's Yukon Territory) and Fairbanks (Alaska) provide opportunities for optional flight-seeing, wildlife viewing, gold panning, and other activities.
In Whitehorse, admittance to the Frantic Follies – a popular vaudeville revue which depicts the entertainment seen by the pioneers of the Great Klondike Gold Rush of 1898.
The free day in Fairbanks provides the opportunity for an optional side trip to the Arctic Circle (partially unpaved), including a ride along the Alaska Pipeline.
An overnight stay at Denali National Park, with the option to take a tour of the park.
A virtual guarantee to see bear, moose, caribou, elk, and other wildlife.
It may be necessary to make minor modifications to the proposed itinerary. When alternate lodging is used, we will endeavor to use lodging of an equal or higher quality or rating than what has been specified in this listing.
At a Glance Your Alaska and Yukon Adventure
Except for approximately 100 miles of good, hard packed gravel on the Top of the World Highway, the route is entirely paved and offers a variety of road features. Riders wishing to do an optional trip to the Arctic Circle will ride on some good, hard-packed gravel as well. Expected wildlife sightings include bear, moose, elk, the Bald Eagle, wild sheep and goats and much more.
Please contact us about low frame and/or low seat options for our bikes.
Standard Inclusions
Late model, low mileage motorcycle
Upscale accommodations
A' la carte dining
Two Ayres Adventures professional tour leaders
Airport arrival/departure transfers
Luggage handling
Comfortable support vehicle for non-riding companions
Comprehensive pre-trip planning and assistance
Customized trip booklet with day-by-day itinerary and attractions
Two commemorative shirts
Adventurer Club travel award credit
Meals
All breakfasts
15 dinners
Special Inclusions
Entry to the Frantic Follies-Vaudeville Revue from Gold Rush Era
Deposit per person: $800
Single room supplement
– $1,200
2023 Schedule
2024 Schedule
Cancellation fee and refunds
FROM DATE OF
SCHEDULED COMMENCEMENT
AMOUNT FORFEITED

More than 60 days
50% of deposit
60 days or fewer but more than 45 days
100% of deposit
45 days or fewer but more than 30 days
50% of full tour payment
30 days or fewer
100% of full tour payment
This is my third tour with different tour operators and yours is the best so far!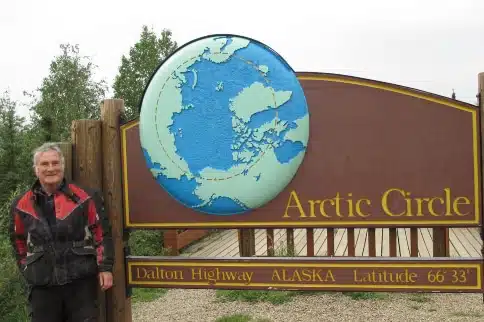 Hi Ron,
Just a short note to say thanks for a great tour this month of Alaska and the Yukon. I would especially like to thank your tour guides Ed and Juergen who conducted themselves in a highly professional manner where nothing was a problem which greatly contributed to the tour.
The food and accommodations were excellent. I especially liked the gravel roads from Chicken to Dawson City and parts of the Dalton highway.
Thanks,
Mike
Mike's Adventures include:
Alaska and Yukon Adventure
Mike Child
Sydney, Australia
Words cannot express what an absolutely wonderful time I had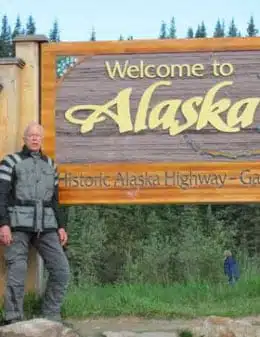 Ron, words cannot express what an absolutely wonderful time I had on this trip, for me the trip of a lifetime. John and Ed deserve an A+ for their professional, complete and friendly leadership of this motorcycle tour, as do you for hiring them in the first place.Again, many thanks.
Bob's Adventures include:
Alaska & Yukon Adventure
Bob Oster
Menlo Park, California
Exceptional Road Support and Tour Leadership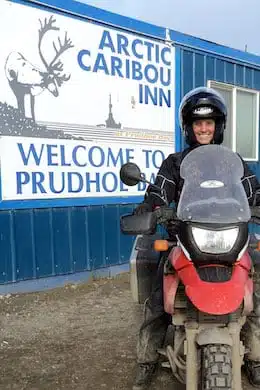 While searching on-line for motorcycle travel I came across the Ayres Adventures website. The site was far and away better than any other so I called Ron, took a chance, signed up for the South America 5 Flags Tour and never looked back. The trip was well run and well planned, offered reliable road support, experienced tour leaders and attracted fun, adventurous people.The next trip I took was an Ayres Adventure to Africa and this past summer I rode with Ayres in Alaska and Yukon Territory. By now I knew I could count on Ayres for exceptional road support and tour leadership and I was not disappointed. The Alaska challenge for me was riding the Dalton Highway to Prudhoe Bay and our leaders, John and Ed, aside from the expected road support, offered moral support and encouragement. I couldn't have done that ride without them.My challenge now will be deciding which Ayres Adventure to sign up for next.
Marilyn's Adventures include:
Prudhoe Bay Excursion
Alaska/Yukon Adventure
Southern Cross
Call of the Wild
South America 5 Flags
The Epic Journey - Moscow to Hong Kong
Antarctica Adventure
Marilyn Makepiece
Santa Barbara, California
Private Tour Inquiry
We are happy to book any of our motorcycle tour as a private tour. For most tours, we require a minimum of 8 bikes, or 12 participants (riders plus co-riders). We can provide a private motorcycle tour for smaller groups, but a surcharge may apply. We can also customize any of our regular tours for a private group.