Please call +1 (877)-275-8238 to learn more about this or other tours.
Our 13-Day Ushuaia Adventure begins in Bariloche and ends in Ushuaia, Argentina. This Adventure is not an "expedition". More than 95% of the route is paved and that which is not is generally hard-packed gravel that is in good condition. The trip is suitable for two-up riding and limited off-pavement experience.
The stop at "El Fin Del Mundo" will provide time to explore this marvelous part of the world, including Tierra del Fuego National Park. Other potential side trips include a ride to Puerto Harberton – and beyond – to the southernmost point in the world to which it's possible to ride a motorcycle.
Riders will also visit Chile's famous Torres del Paine National Park, where they will stay at a small hotel situated on an island on one of the park's shimmering lakes.
At the Perito Moreno Glacier, guests will view one of the largest and most impressive glaciers in the world, where huge chunks of ice "calve" and crash into the water regularly.
At a Glance Your Bariloche to Ushuaia Adventure
Our Tour Leaders will meet you at the gate and will escort you to your hotel. We'll introduce you to your motorcycle and to your fellow travelers.
Bariloche has a lot to offer; you can easily spend the day walking around in the city, having coffee and tasting the famous pastry and chocolates. As for riding: everything from a short ride on pavement up to 155 miles partly on gravel is possible. The Nahuel Huapi National Park provides us with the stunning beauty of the "7 Lakes Road" and some incredible views – a day in paradise!
Today we ride through the famous "Butch Cassiday and The Sundance Kid" region to Esquel, at the foot of the Andes Mountains. We'll be surrounded by mountains as we travel on relaxing, country roads. Esquel – which appears like a smaller and more laid back Bariloche – welcomes us again with scenic beauty and a luxurious hotel.
The ride across Patagonia will be desolate, but beautiful, with several interesting stops along the way.
It's a beautiful ride along the coast out of Comodoro Rivadavia, with stunning views of the Atlantic Ocean to your left. By now, we'll probably start to experience the Patagonian winds. Puerto San Julian is a quaint little fishing village that is best known for the many famous explorers who have spent time there. Ferdinand Magellan spent the winter in 1520. Sir Francis Drake and Charles Darwin also spent time here. The town has a replica of one of Magellan's ships at the harbor.
We'll leave the Atlantic coast behind as we turn inland to El Calafate, a charming little town with numerous shops, cafés and restaurants. Our 5-star hotel is only a few blocks from downtown and we'll arrive early enough to enjoy our first evening in El Calafate. By the time we reach El Calafate, you will have enjoyed many fine dining opportunities. Be prepared for one of the best of the trip at the very special restaurant we'll use this evening.
Today we'll visit one of the most popular attractions in South America – the Perito Moreno Glacier – just a one hour ride from El Calafate. We'll be taken to Los Glaciares National Park by comfortable motor coach where we can enjoy a cruise approaching the face of the glacier, followed by lunch.
Today we cross the border into Chile where we'll visit one of the most popular National Parks in South America: Torres del Paine National Park. Be prepared to be blown away by the stunning scenery, as we cross a footbridge to our very special "boutique" lodge located an island in the middle of Lago Pehoe (pictured below). The lodge affords a stunning view of the "Towers".
From your island hotel, the riding in the park is stunning in every direction. Take your camera and be prepared for a relaxing ride through stunning scenery with shimmering lakes around every corner. Or spend a relaxing day on your island retreat. There are no bad options!
We'll have another nice day of riding through Patagonia in Chile to Punta Arenas – the largest city south of the 46th parallel, south. We'll stop for a photo opportunity at the "Monument to the Wind" – a monument paying tribute to the strong Patagonian winds that are often present in the region. The monument was created in 2000 by noted Chilean sculptor Alejandra Ruddoff.
We'll ride along the Straits of Magellan to Punta Delgada, where we'll take a ferry (20 minutes) across the Straits of Magellan and onto the island of Tierra del Fuego. Once on the island, gravel will change with pavement, while we cross into Argentina again. Our destination is Rio Grande and the hotel there provides us with all conveniences!
It's a very short ride from Rio Grande to Ushuaia, so you'll be able to have a leisurely departure, pickup some last minute souvenirs, and have plenty of time for some interesting photo opportunities along the way. You'll also have time to visit Tierra del Fuego National Park and have your photo taken at the famous "Sign".
Depart Ushuaia.
Total – 2,100 miles.
Roads are mostly paved and in very good condition. There is several hundred miles of gravel in Patagonia, but the gravel is hard-packed and well maintained and does not require technical skills. The entire trip is very suitable for two-up riding.
In Patagonia, high winds are often prevalent. The windy section of the trip is almost entirely on straight roads, which we've classified as "Tame". The "Tame" designation is not to suggest "uninteresting". It's meant to designate good paved highways that do not entail twisties or significant changes in elevation.
This trip is intended for experienced riders.
Please contact us about low frame and/or low seat options for our bikes.
Standard Inclusions
Late model, low mileage motorcycle
Upscale accommodations
A' la carte dining
Two Ayres Adventures professional tour leaders
Airport arrival/departure transfers
Luggage handling
Comfortable support vehicle for non-riding companions
Comprehensive pre-trip planning and assistance
Customized trip booklet with day-by-day itinerary and attractions
Two commemorative shirts
Adventurer Club travel award credit
Meals
All breakfasts
10 dinners
Special Inclusions
Boat excursion to view Perito Moreno Glacier
Cave entry fee in Torres del Paine National Park
Ferry across Straits of Magellan
Entry fee to Tierra del Fuego National Park
Deposit per person: $800
Single room supplement
: $975
2023 Schedule
2024 Schedule
Cancellation fee and refunds
FROM DATE OF
SCHEDULED COMMENCEMENT
AMOUNT FORFEITED

More than 60 days
50% of deposit
60 days or fewer but more than 45 days
100% of deposit
45 days or fewer but more than 30 days
50% of full tour payment
30 days or fewer
100% of full tour payment
Well done, Ayres Adventures!
Richard and Paula Maxwell
Lincolnshire, United Kingdom
What a Ride!
What a ride! The IBA (Iron Butt Association) Ushuaia trip attracted me because of the opportunity to ride with like minded individuals who like doing the miles, and I was not disappointed. Challenging conditions like the Patagonian winds and the gravel roads of Chile were taken in stride by this bunch, and we all looked forward to great accommodations and good company at the end of every day.
My personal highlights were chasing Mike Kneebone and Nuno Leotte on the twisty pavement to the Perito Moreno glacier and the 1100 km day riding from Ushuaia to Torres del Paine through some of the finest scenery in the world.
I'll be back for more.
Rick's Adventures include:
IBA (Iron Butt Association) Ushuaia Tour
African Call of the Wild
African Southern Cross
Portugal, Spain and Morocco
Machu Picchu Excursion
Rick Sauter
Nelson, British Columbia, Canada
It was my first group motorcycle tour, but it will not be my last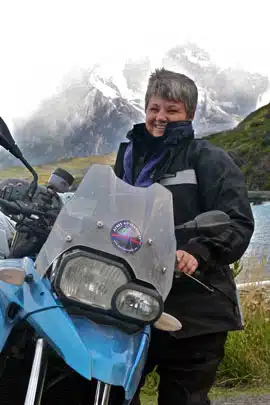 It was an exciting, quick paced ride with an entertaining group. The leaders were always available offering encouragement, riding tips or just reliving the day over dinner.
And then of course there are the bragging rights of riding the world with Mike Kneebone and Ron Ayres.
It was my first group motorcycle tour but will not be my last!
Beverly's Adventures include:
IBA (Iron Butt Association) Ushuaia Tour
Africa Panorama Tour
Beverly Ruffin
Houston, Texas
Private Tour Inquiry
We are happy to book any of our motorcycle tour as a private tour. For most tours, we require a minimum of 8 bikes, or 12 participants (riders plus co-riders). We can provide a private motorcycle tour for smaller groups, but a surcharge may apply. We can also customize any of our regular tours for a private group.