Ayres Adventures has put together the ultimate Oceania tour for Triple S Harley-Davidson. This 21-day tour will take riders on some of the best motorcycling roads in Australia, Tasmania and the South Island of New Zealand.
This Adventure launches from the iconic and beautiful city of Sydney. From there we will ride along the cliffs of the Blue Mountains before boarding our overnight ferry to Tasmania. During our six days on this unique and beautiful island, we will travel through seasonal rainforest wilderness on lovely rural backroads, as well as ride along a spectacular 138-mile strip on Tasmania's sunny east coast. Once we return to the Australian mainland, we will travel along The Great Ocean Road which includes highlights such as The Twelve Apostles and Shipwreck Bay. The riding in New Zealand, with its breathtaking scenery and superb roads, is equally as stunning. New Zealand's hallowed "West Coast" highway easily rivals the attractions of the Great Ocean Road. Which is better? We'll let you decide since you will experience both.
It would be a shame to come "down under" and not be able to experience both of these fantastic destinations, but if you're schedule won't permit it, we have made it easy to do either Australia/Tasmania or New Zealand.
At a Glance Your Triple S H-D Oceania Tour
Standard Inclusions
Late model, low mileage motorcycle
Upscale accommodations
A' la carte dining
Two Ayres Adventures professional tour leaders
Airport arrival/departure transfers
Luggage handling
Comfortable support vehicle for non-riding companions
Comprehensive pre-trip planning and assistance
Customized trip booklet with day-by-day itinerary and attractions
Two commemorative shirts
Adventurer Club travel award credit
Meals
All breakfasts
17 dinners
Special Inclusions
Overnight ferry to/from Tasmania
Pre-dinner show in Strahan
Deposit per person:
Full Oceania Tour: $3,200
New Zealand: $1,600
Australia: $1,600
Single room supplement:
Full Oceania Tour: $1,600
New Zealand: $900
Australia: $900
2019 Schedule
| Date | 2019 Adventures | Days | Price (USD) | Co-rider | Notes |
| --- | --- | --- | --- | --- | --- |
| Feb 16 - Mar 8 | Full Oceania Tour | 21 | $13,900 | $9,900 | |
| Feb 16 - Feb 26 | Australia and Tasmania | 11 | $7,500 | $5,700 | |
| Feb 26 - Mar 8 | New Zealand | 11 | $6,900 | $4,950 | |
They always go above and beyond to take care of the client
Rob and Christine Hiday
Jacksonville, FL
This is the way I want to experience this type of trips going forward!
Now that I am finally back home I wanted to send some words with my impressions after this adventure in your wonderful country.
This was my ninth motorcycle tour of this type and I can say without hesitation that what I have experienced this time has nothing to do with my previous tours. I had very high expectations of the tour based on the multiple things I read and videos I watched in preparation of this adventure. All of them have been highly exceeded.
Of course the many wonders of New Zealand, as well as the quality of the accommodations and restaurants chosen, had a lot to do with that, but what really made the difference was the level of enthusiasm and professionalism that you and Jason showed every single day of the tour, taking care of every detail, anticipating any potential issue, ensuring that everyone was safely enjoying those superb riding opportunities that this country offers, and making sure that each of the participants was getting the most out of each day.
If this is the way in which Ayres delivers the adventures offered in its catalogue then I am afraid that you will be hearing a lot more about me, because this is the way I want to experience this type of trips going forward.
All my gratitude for this unforgettable adventure and all the strength for the times to come.
Fuerte abrazo (Big Hug)
Raul
Raul's Adventures include:
Top Down Adventure
Thank you for a trip of a lifetime that exceeded my highest expectations!
The tour leaders were way more than I ever anticipated. They are thorough, knowledgeable about motorcycling and the area and they both have really good people skills. I saw them accommodate every person on the tour in a unique way for each person and they made it look easy ...which I know is not the case.
Bravo to these two guys and to you for hiring and training them. They are what made this tour so exceptional.
The ride scenery in New Zealand was unbelievable and fantastic and the dinners were first class.
Thank you, thank you for a trip of a lifetime that exceeded my highest expectations.
Mark's Adventures include:
Top Down Adventure
Can't wait to return!
Just returned from New Zealand and the Top Down Tour and can't wait to return. Chris and Janis could not have made a better set of guides.
David's Adventures include:
Top Down Adventure
David Stepanchak
Los Angeles, CA
We cannot think of a better way to see the world!
Travelling with Ayres Adventures was stellar. It was a great opportunity to tour another country with absolutely no worries. Each day we were briefed as to what the day ahead would look like and off we went. The guides, Chris and Axel, were knowledgeable, organized and a pleasure to be with. We made many stops to look at beautiful sites or to take a break. It gave us an opportunity to meet new friends and share the love of motorcycle touring. We cannot think of a better way to see the world and would definitely travel with Ayres again.
Wendel and Janet's Adventures include:
Top Down Adventure
Wendel and Janet Rommens
Brooks, Canada
After this fantastic tour, I am afraid I can never do a "normal" vacation again!
Even though I had high expectations, I was not prepared for how heart achingly beautiful New Zealand is. Every day on the tour another stunning ride unfolded, each completely unique and full of surprises. The accommodations were equally unique and in prime spots, with nice meals in a variety of restaurants. Both tour leaders had a deep knowledge about the places we visited and taught us a lot. After this fantastic tour, I am afraid I can never do a "normal" vacation again!
Cordelia's Adventures include:
New Zealand Top Down Adventure
Mongolia and Eastern Siberian Adventure
Cordelia Sever
Albuquerque, New Mexico
Once you travel with Ayres Adventures there is no going back!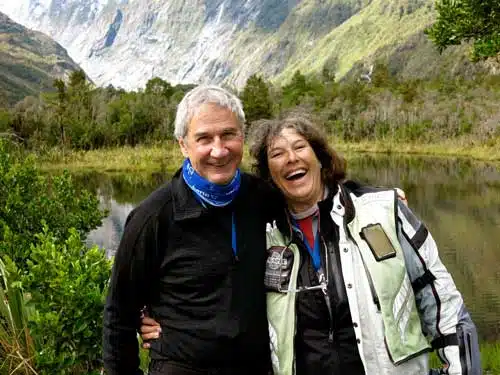 First class all the way! Awesome roads and amazing lodging. Staff brings the group together and makes everyone feel welcome and at ease. Gives us plenty of time on the bikes and off the bikes to enjoy our new friends. Does a great job dealing with the unexpected and last minute changes which are bound to happen with any event. Why go with any other group - once you travel with Ayres Adventures there is no going back - they are top notch. This is my 4th trip and saving my money for the next one.
John and Heidi's Adventures include:
New Zealand Top Down Adventure
Ushuaia and Antarctica
Africa Call of the Wild
Iron Butt Viking Run
More awesome than we could ever have imagined!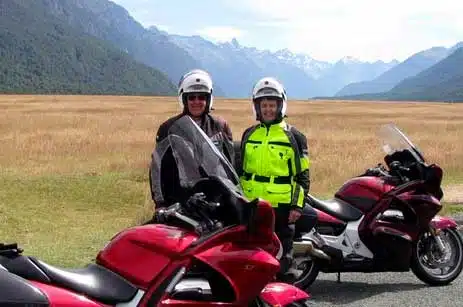 Hi Ron,
I just wanted to touch base with you about our recent trip to New Zealand with Ayres Adventures. It was a trip of a lifetime that was more awesome than we could ever have imagined.
Chris and Bryn did an outstanding job in leading us and showing us their country the New Zealand way. The bikes ran great, the weather was excellent, the scenery outstanding, the roads were awesome with lots of curves, the food was amazing and our tour group of people all got along as good friends.
I could go on and on, but words cannot express the fun we had on this tour. Everything was top notch! A truly amazing journey!
Bob and Robin's Adventures include:
New Zealand Top Down Adventure
(Auckland to Christchurch)
Bob and Robin Hyde
Plymouth, Minnesota
The most wonderful vacation we've ever had!
Before we left for New Zealand, we told ourselves it would be the trip of a lifetime...it was all that and ten times more. Every aspect of the entire experience far exceeded our wildest expectations.
The accommodations and the meals were fabulous, the rides amazing, and the people were the absolute best. It was without a doubt the most wonderful vacation we've ever had.
We will return to New Zealand some day, and we will ride with Ayres again--somewhere in the world.
John and Jane's Adventures include:
New Zealand Top Down Adventure
John and Jane Jonesco
Oberlin, Ohio
You won't be disappointed!
"I've taken two Ayres Adventures motorcycle tours, two years apart, on two continents - they were both topnotch! I don't normally treat myself to the finest things, but Ayres Adventures did treat us to the finest things, and they did it humbly, with knowing smiles on their faces. They knew the next site, the next route, or the next hotel, was going to knock our socks off. And, sure enough, it did!
I encourage anyone considering an overseas motorcycle trip to choose Ayres Adventures as your host. You won't be disappointed"
Steve's Adventures include:
Rendezvous in Rio
New Zealand Grand Tour
Steve Morgan
Chicago, Illinois
My husband loves motorcycle touring and now I must admit I have grown to love it too!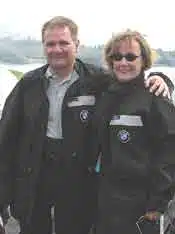 Bob and Sue Johnston
Lake Villa, Illinois
We're already signed up for the Alps and Morocco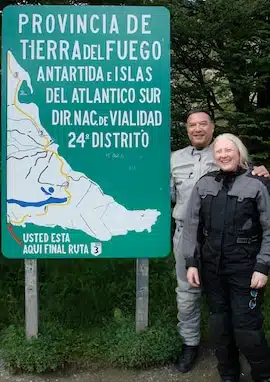 I've ridden eight Ayres Adventures tours, three of them IBA (Iron Butt Association) specific rides and haven't been disappointed. All have been first class, unique, and full of very pleasant surprises. Ron and his staff have always been courteous, helpful, and patient. In fact, he has found some special tour leaders and guides. By the end of the tour, they become friends that we look forward to seeing again.
Each tour had it's own highlights. The IBA tours fit our style of riding since we are interested in seeing as much as we can and not spending a lot of time at the destination hotels. If you ride one, be prepared to cover some distance in all kinds of road and weather conditions.
Ushuaia had been one of those must see places for us and the South America IBA ride was the perfect way to do it, we ended up with more than we expected. The scenery was spectacular, the food was excellent, and this group of riders made it a ride to remember.
We enjoyed this one so much, we're already signed up for the Alps IBA ride this September and the Portugal, Spain, and Morocco tour next year.
Tom and Mona's Adventures include:
IBA Ushuaia Tour
IBA Africa Tour
IBA Extreme Alps Tour
Machu Picchu Excursion (Empire of the Incas)
Spain and Morocco
New Zealand Top Down Adventure
Namibian Splendors (Africa)
Russia - Beyond the Golden Ring
Munich to Istanbul
Japan Cherry Blossoms and Mt. Fuji
The Epic Journey - Moscow to Hong Kong
Tom and Mona Loftus
Vista, California
You win the oscar!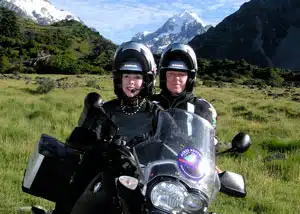 George and Sherri DeMier
Tulsa, Oklahoma
Once again, we came away thrilled...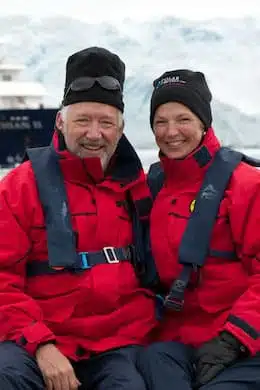 "The Antarctica trip was our fifth tour (or 6th if you count Hyder) with Ayres Adventures and once again we came away thrilled with the experience.
The Antarctica portion was a life changing event, much the same as our three trips in Africa with Ayres forever changed our view of the world. Having now toured on all 7 continents, we can say that while the trip to Antarctica is costly and can be difficult at times, it is worth every cent if you enjoy adventure travel to new places. It will change your perspective of our planet and all it entails in a way that is impossible to explain unless you have made the voyage!
Mike and Cara's Adventures include:
Escape to Antarctica (and Ushuaia)
Call of the Wild (Africa)
Southern Cross (Africa)
Namibian Splendors (Africa)
Into Africa
New Zealand Top Down Tour
Greece and Italy - Golden Odyssey
Machu Picchu Excursion
Portugal and Spain Adventure
Portugal, Spain and Morocco Adventure
Mike and Cara Hardinger
Southern Pines, North Carolina
Consider your company whole-heartedly endorsed!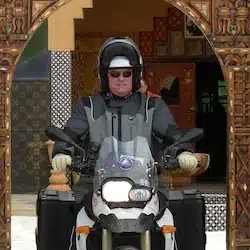 "When the memories of a trip stay with me every night while trying to sleep, I know that I have experienced something very memorable. I had such a good time that I signed up for your next 'Rendezvous in Rio' Adventure".
Consider your company whole-heartedly endorsed!
John's Adventures include:
Taste of Chile (and Dash of Argentina)
South American Splendors
Rendezvous in Rio
New Zealand Grand Tour
Escape to Antarctica (and Ushuaia)
Africa Off-Road
Southern Cross (Africa)
Portugal, Spain and Morocco
John Dinges
Lebanon, Oregon
Bikers Delight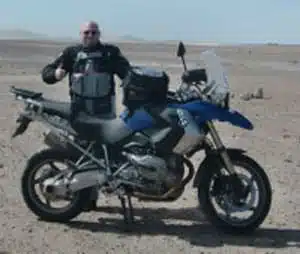 Michael B
Cologne, Germany