Please call +1 (877)-275-8238 to learn more about this or other tours.
A Motorcycling Odyssey – From Europe to Asia and Return
This 35-day SuperTour begins and ends in Munich, includes 15 different countries, a total of 8 free days and covers approximately 6,000 miles of exceptional motorcycle travel. From Germany, the tour continues through Austria, Slovenia, Italy, Croatia, Bosnia & Herzegovina, Montenegro, Albania, Greece, and Turkey. After exploring Turkey, the trip returns to Germany via Bulgaria, Romania, Hungary, Slovakia and Czech Republic. There is virtually no repetition of the eastbound route during the return to Munich.
(The map is for illustrative purposes only and does not always reflect the fact that we often use secondary and more rural roads.)
Highlights include:
Historical cities and world heritage sites such as Split, Dubrovnik, Budapest, the Meteora Monasteries in Greece and the sites of ancient Troy and Ephesus in Turkey.

Extraordinary motorcycling along such world-class destinations as the Croatian coastline, the Turkish Sea of Marmara, the Carpathian Mountains of Transylvania and the winding roads of Austria's back country.

An afternoon at the Plitvice Lakes in the mountainous area of Central Croatia – A UNESCO World Heritage site.

Two free days in Greece: one in a top spa & wellness hotel in the Greek mountains and the other on the "Green Island" of Thassos – an island located in the Aegean Sea that is famous for clean beaches, hospitality, tasty wine and magnificent honey.

Several free days in Turkey, including Akyaka – Turkey's "seaside secret" – a beautiful village beach resort that sits at the head of the beautiful bay of Gokova.

Two free days in Istanbul, a "transcontinental city" that straddles the Straits of Bosphorus – the dividing line between Europe and Asia.

The Transylvania region of Romania, including a free day in Brasov and one night in Sighişoara. The small town (a UNESCO World Heritage Site) is one of the most beautiful and best-preserved medieval towns in Europe. It's also the birthplace of Vlad Dracula (also known as Vlad Tepes – Vlad the Impaler), who inspired Bram Stoker's fictional creation, Count Dracula.

A free day in Budapest, Hungary – an extensive UNESCO World Heritage Site and a city that has been cited as one of the most beautiful cities in the world.

At a Glance Your Munich to Istanbul Adventure

Total ~ 3,728 miles
The route is entirely paved, although there be some options to ride some short gravel (5% or less). Some tough road
conditions (potholes, rough surfaces, animals on the road). The trip is intended for experienced riders.
Please contact us about low frame and/or low seat options for our bikes.
Standard Inclusions
Late model, low mileage motorcycle
Upscale accommodations
A' la carte dining
Two Ayres Adventures professional tour leaders
Airport arrival/departure transfers
Luggage handling
Comfortable support vehicle for non-riding companions
Comprehensive pre-trip planning and assistance
Customized trip booklet with day-by-day itinerary and attractions
Two commemorative shirts
Adventurer Club travel award credit
Meals
All breakfasts
27 dinners
Special Inclusions
Guided city tour in Istanbul
Ferry to Istanbul
Round trip ferry to Thassos
Entry fees for the lakes of Plitvic, Troy, Assos, Ephesus, Pamukkale
Deposit per person: $1,600
Single room supplement
: $3,750
2023 Schedule
| Date | 2023 Adventures | Days | Price(USD) | Co-rider | Notes |
| --- | --- | --- | --- | --- | --- |
| May 6 - June 9 | Munich And Istanbul | 35 | $22,500 | $15,700 | |
2024 Schedule
| Date | 2024 Adventures | Days | Price(USD) | Co-rider | Notes |
| --- | --- | --- | --- | --- | --- |
| May 4 - June 7 | Munich And Istanbul | 35 | $22,500 | $15,700 | |
Cancellation fee and refunds
FROM DATE OF
SCHEDULED COMMENCEMENT
AMOUNT FORFEITED

More than 90 days
50% of deposit

90 days or fewer but more than 60 days
100% of deposit

60 days or fewer but more than 45 days
50% of full tour payment

45 days or fewer
100% of full tour payment

The best way I can think of to see 15 different countries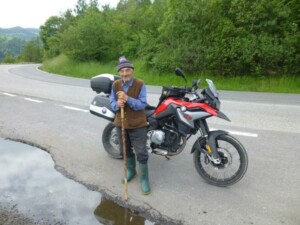 This tour is the best way I can think of to see 15 different countries in one tour which means 15 different cultures, different geographies, different customs, and best of all 15 different nationalities of people.
While the rest of the group was touring Dracula's Castle, I went out for a ride by myself up in the mountains. An old sheepherder (pictured) waved at me as I rode by and I turned around and went back to say hi. We had about a half hour conversation with neither of us speaking the others language but with pantomiming he was able to tell me his story. He pointed out the house he grew up in and still lived in. Ninety-three years old and still riding a motorcycle. I figured out that he had a 10-year-old Ducati Monster 600 bike, and rode it out to the pasture where the sheep were.
He relished looking over my bike and indicated BMWs were great bikes. This type of encounter is one of the main reasons I like to go on Ayres motorcycle tours. The freedom to explore on your own and not always have to be with the group sets your company apart from most of the others. There isn't the pressure to stay with the group and I never would have gotten a chance to meet this fella if I wasn't by myself. You don't get this interaction with the locals driving a car.
John's Adventures include:
Munich to Istanbul Adventure
Roof of Africa
Southern Cross
Taste of Chile (and Dash of Argentina)
Portugal, Spain, Morocco
SA Splendors
Escape to Ushuaia
New Zealand Grand Tour
Rendezvous in Rio
If I have to pick one word, it's "professionalism"!
I guess after six trips with the gang from Ayres, I should write something about why I keep coming back for yet another tour. If I have to pick one word, it's "professionalism". Although they make each day look easy in terms of getting from point A to point B, on reflection it becomes so apparent that each route is well thought out and chosen for specific reasons, whether it be the scenery, road conditions, or degree of difficulty. It all seems to work so seamlessly which allows the rider to focus on the ride and his or her surroundings. Whether it's Claus or John or Axel, you know that one of them has your back, especially when you tackle a road that a month ago was paved but is now a mess and foot deep in mud or the road is closed and the detour a real challenge. And finally, at the end of the day, they're a hell of a lot of fun to have a drink with! In the final analysis, it makes for pretty much a perfect vacation.
Geoffrey's Adventures include:
Under the Tuscan Sun
Machu Picchu Excursion
Ushuaia and Antarctica
Norwegian Midnight Sun
Munich to Istanbul
The Epic Journey Riga to Hong Kong
Iceland Adventure
North Pole Adventure
Geoffrey has written several articles/blogs about his experiences on our tours:
BMW Owners News - Antarctica
BMW Owners News - Iceland
Blog – Under the Tuscan Sun
Geoffrey R. Smith
West Hollywood, LA
We're already signed up for the Alps and Morocco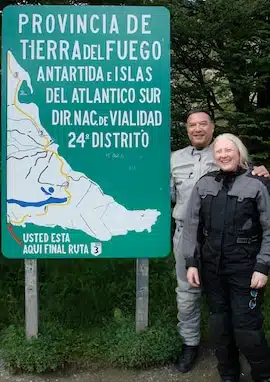 I've ridden eight Ayres Adventures tours, three of them IBA (Iron Butt Association) specific rides and haven't been disappointed. All have been first class, unique, and full of very pleasant surprises. Ron and his staff have always been courteous, helpful, and patient. In fact, he has found some special tour leaders and guides. By the end of the tour, they become friends that we look forward to seeing again.
Each tour had it's own highlights. The IBA tours fit our style of riding since we are interested in seeing as much as we can and not spending a lot of time at the destination hotels. If you ride one, be prepared to cover some distance in all kinds of road and weather conditions.
Ushuaia had been one of those must see places for us and the South America IBA ride was the perfect way to do it, we ended up with more than we expected. The scenery was spectacular, the food was excellent, and this group of riders made it a ride to remember.
We enjoyed this one so much, we're already signed up for the Alps IBA ride this September and the Portugal, Spain, and Morocco tour next year.
Tom and Mona's Adventures include:
IBA Ushuaia Tour
IBA Africa Tour
IBA Extreme Alps Tour
Machu Picchu Excursion (Empire of the Incas)
Spain and Morocco
New Zealand Top Down Adventure
Namibian Splendors (Africa)
Russia - Beyond the Golden Ring
Munich to Istanbul
Japan Cherry Blossoms and Mt. Fuji
The Epic Journey - Moscow to Hong Kong
Tom and Mona Loftus
Vista, California
Private Tour Inquiry
We are happy to book any of our motorcycle tour as a private tour. For most tours, we require a minimum of 8 bikes, or 12 participants (riders plus co-riders). We can provide a private motorcycle tour for smaller groups, but a surcharge may apply. We can also customize any of our regular tours for a private group.