Please call +1 (877)-275-8238 to learn more about this or other tours.
Across the Arctic Circle and on to the North Cape!
The Adventure is designed for riders who are looking for something very special: a tour beginning in Oslo – the economic and governmental center of Norway – to the end of the world – nearly 300 miles north of the Arctic Circle – further north than Prudhoe Bay, Alaska! This Adventure will take you through the pristine beauty of Norway with stunning and bizarre landscapes on endless roads through uninhabited wilderness with 24 hours of daylight. There is no other "North Cape" tour that will let you experience more of Norway.
Join us in conquering the North Cape by motorcycle! Ride along the Norwegian fjord–dotted coast line, cross the Lofoten Islands and the never ending plains of Lappland up to the border of Russia. Join us on a whale safari and watch the Midnight Sun! This tour is about challenging and experiencing mother nature with all its facets and riding the roads that lead you to where Europe ends – The North Cape.
Highlights include:
Oslo – the fastest growing city in Europe and the city ranked number one for quality of life among large European cities

Trondheim – a colorful and historic city at the shore of the river Nidelv

Crossing of the Arctic Circle

A 4 hour ferry ride to the Lofoten Islands

The Lofoten: a mountain range rising from the sea

An optional whale safari in Andenes on the Vesteralen Islands

Watch The Midnight Sun

Ride through Finnish Lappland, the land of the Samis

Ferry ride on the "world's most beautiful fjord": Geiranger Fjord

Ride Norway's most famous "Trollstigen" passroad

Free day in Alesund – Norway's "little Bergen"

Stave churches: 700 years old witnesses of Norway's past

The North Cape – the northernmost point in the world that is accessible by motorcycle
Riders will cover a distance of about 2,500 miles, entirely on good paved roads which are mostly easy to manage with little traffic. Some sections (~10 – 15%) are technically more challenging, but there are also long daily distances with straightaways. Wind and rougher climate can be an issue the further north we ride.
Hotels are good three and four star quality.
At a Glance
Your Norwegian Midnight Sun Adventure
Standard Inclusions
Late model, low mileage motorcycle
Upscale accommodations
A' la carte dining
Two Ayres Adventures professional tour leaders
Airport arrival/departure transfers
Luggage handling
Comfortable support vehicle for non-riding companions
Comprehensive pre-trip planning and assistance
Customized trip booklet with day-by-day itinerary and attractions
Two commemorative shirts
Adventurer Club travel award credit
Meals
All breakfasts
13 dinners
Special Inclusions
All ferry fjord crossings
Geiranger panorama ferry
Ferry to Lofoten Islands
Entry fee for Heddal Stave Church
Entry fee North Cape Visitor Center
Deposit per person: $800
Single room supplement
– $1,675
2019 Schedule
2020 Schedule
Cancellation fee and refunds
FROM DATE OF
SCHEDULED COMMENCEMENT
AMOUNT FORFEITED

More than 60 days
50% of deposit
60 days or fewer but more than 45 days
100% of deposit
45 days or fewer but more than 30 days
50% of full tour payment
30 days or fewer
100% of full tour payment
Ayres is truly a premium tour company that handles all the details
Our second tour with Ayres Adventures to Norway was just as fantastic as our first one to New Zealand. The guides were excellent in knowledge of the area and the roads and stops to make. The scenery was awesome beyond words to describe. The best way to see a country is on a motorcycle and a support van to carry your luggage. Ayres is truly a premium tour company that handles all the details so the riders can enjoy the tour. The nightly accommodations were first class and outstanding. I'm looking forward to my next tour with Ayres.
We had a great time and would recommend this tour highly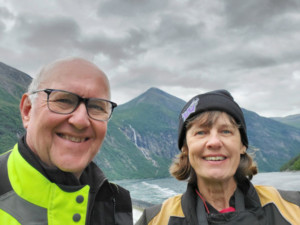 Our Norway adventure was great. The scenery was fantastic, the food tasted great, the route was well organized, and the tour leaders were professional and knowledgeable. Everyone we met in Norway was friendly. We had a great time and would recommend this tour highly.
Don't leave home on two wheels without Ayres Adventures!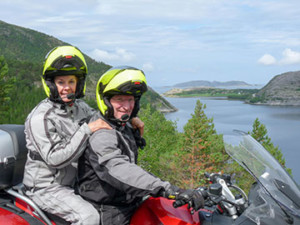 Doree and Roddy Guthrie
Frisco, TX
Started thinking about our next Ayres Adventure long before this one ended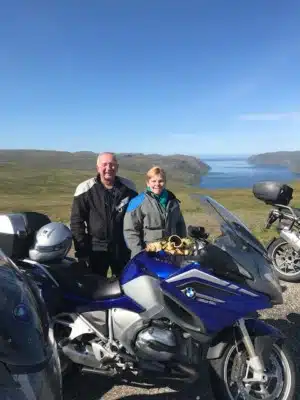 This was our first Ayres Adventure, and the Norwegian Midnight Sun tour was really a trip of a life time. The scenery is spectacular, and the routes chosen really show the country at its best. Claus & Axel are terrific at explaining where we were riding, what we'd see, and making sure we had a great time. The pace was just right, with nice breaks for lunch & coffee, and the hotels and dinners were uniformly excellent. We met wonderful people, and started thinking about our next Ayres Adventure, long before this one ended.
Denise and Einer's Adventures include:
Norwegian Midnight Sun
Denise and Einar Rod
Newtown, CT
The riding, accommodations, food and tour guides are all top notch!
My wife and I have been on four tours through 13 countries with Ayres and are always eager for more. The riding, accommodations, food and tour guides are all top notch and get my highest recommendation for anyone interested in this type of motorcycle travel. I feel personally grateful to Ron Ayres for creating this unique and exciting set of opportunities and to the professional and committed tour guides and leadership that have continued the tradition of excellence he founded. Keep up the good work!
Rufus's Adventures include:
Bohemian Rhapsody
Norwegian Midnight Sun
Portugal and Spain
Canada Adventure Center Holiday
Rufus Timberlake
Portland, OR
If I have to pick one word, it's "professionalism"!
I guess after six trips with the gang from Ayres, I should write something about why I keep coming back for yet another tour. If I have to pick one word, it's "professionalism". Although they make each day look easy in terms of getting from point A to point B, on reflection it becomes so apparent that each route is well thought out and chosen for specific reasons, whether it be the scenery, road conditions, or degree of difficulty. It all seems to work so seamlessly which allows the rider to focus on the ride and his or her surroundings. Whether it's Claus or John or Axel, you know that one of them has your back, especially when you tackle a road that a month ago was paved but is now a mess and foot deep in mud or the road is closed and the detour a real challenge. And finally, at the end of the day, they're a hell of a lot of fun to have a drink with! In the final analysis, it makes for pretty much a perfect vacation.
Geoffrey's Adventures include:
Under the Tuscan Sun
Machu Picchu Excursion
Ushuaia and Antarctica
Norwegian Midnight Sun
Munich to Istanbul
The Epic Journey Riga to Hong Kong
Iceland Adventure
North Pole Adventure
Geoffrey has written several articles/blogs about his experiences on our tours:
BMW Owners News - Antarctica
BMW Owners News - Iceland
Blog – Under the Tuscan Sun
Geoffrey R. Smith
West Hollywood, LA
Thank you again for another wonderful tour!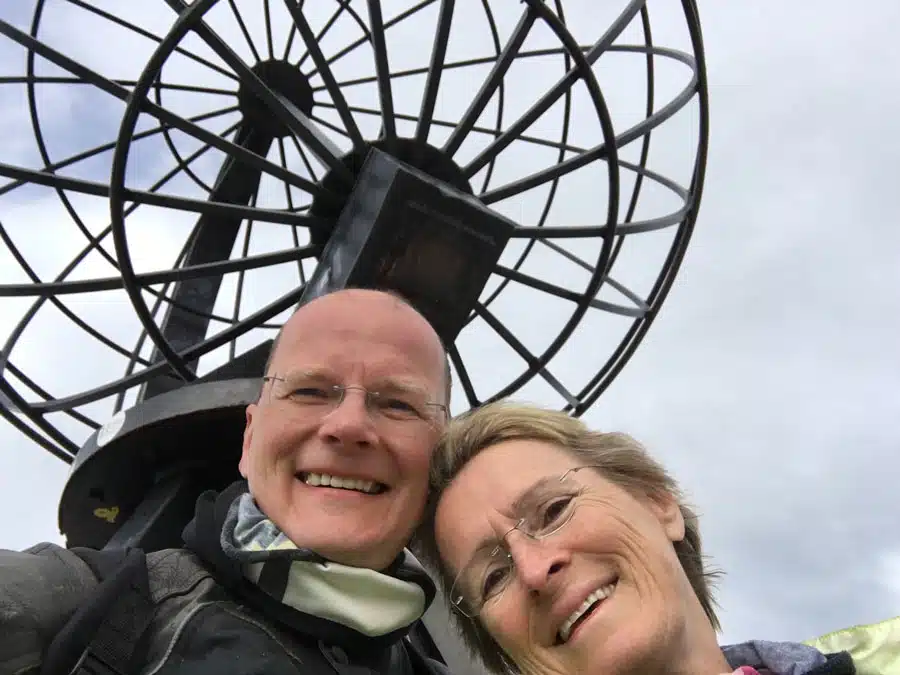 Thank you again for another wonderful tour! We always wanted to go to the North Cape, with all the planning you did for us, you made this trip a great experience. You found nice twisties with spectacular views, stunning landscapes and outrageous bridges from one island to another, which made our hearts beat faster.
Our tour leaders had a lot of inside information on special routes, which were not crowded at all. GREAT RIDING!
Birgit and Manfred's Adventures include:
Norwegian Midnight Sun Adventure
Japan Cherry Blossom
Call of the Wild
Machu Picchu Excursion
Birgit Klenke and Manfred Boertz
Hamburg, Germany
Bikers Delight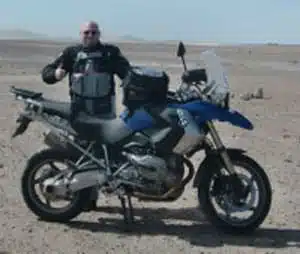 Michael B
Cologne, Germany
Private Tour Inquiry
We are happy to book any of our motorcycle tour as a private tour. For most tours, we require a minimum of 8 bikes, or 12 participants (riders plus co-riders). We can provide a private motorcycle tour for smaller groups, but a surcharge may apply. We can also customize any of our regular tours for a private group.